By Fr. Mike Boutin -- June 21, 2009
John 3:30: He must increase; I must decrease.
Listen to Matt Redman: "You Must Increase":
It's the brightest night of the year: the summer solstice -- June 21st.... when the day is longest, and the night is the shortest. You feel it in your bones: your step is lighter, you have more energy, and you don't think twice about eating later in the evening, staying up to watch Letterman, getting more exercise...the sun gives you life....
When it was 8:30 p.m. last evening it felt like 5 p.m...it was still bright out, there was plenty of street traffic...couples were strolling the sidewalk hand in hand...parents were walking with their kids...people were working in their yards...Ah, the joy of summertime in New England!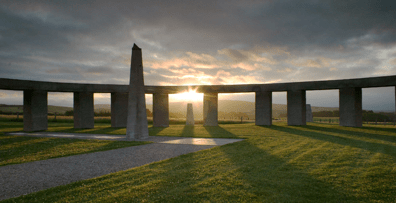 In a few days, on June 24th, we'll celebrate the Feast of the Nativity of St. John the Baptist, who declared to his own followers who thought that John might be the Messiah: "I must decrease so that he might increase." June 24th is a few days after the summer solstice. Hard as it is to believe, the days are then getting shorter....the sun is decreasing and the darkness is increasing. "I must decrease, so that he might increase."
Conversely, we celebrate the Nativity of Jesus Christ, on of course, Christmas Day, the 25th of December, just a few short days after the winter solstice on December 21st. The winter solstice is the longest, darkest, and coldest day of the year: when the night is longer than the day. So when we celebrate the birth of the Sun of Justice on the 25th, the days are actually getting longer, and the night gives way to the light, the Son has come!
Those of us in the northern hemisphere understand this. The northern hemisphere is the same hemisphere that Rome is in, and upon which our liturgical calendar was based. Unfortunately, in a global world, none of this makes much sense to our brothers and sisters down under....
For us though, these days can be a reminder that our lives, even in the darkness, need to be about looking for the light: for hope, for healing, and for goodness...Light always conquers darkness.
John the Baptist shows us the way: he points us to Christ, the Lamb of God, the Light of the World, the Sun of Justice. "Looks, there He is. Follow Him," John invites us. And when we do, we walk in the Light....
Now pray.....
1/1/2000 5:00:00 AM