Nonetheless, Stanton, who converted to Judaism in 1987 and has spoken previously about having been born Jewish, "but not to a Jewish womb," did address her history-making ordination, stating simply, "I'm a rabbi who also happens to be an African-American woman, not an African-American woman who happens to be a rabbi. And as I've said from the beginning, if I was the 50,000th African-American woman doing this, I would still be on this journey. It just so happens that I'm the first, and I'm honored."
With that, Rabbi Stanton left the courtyard and made her way out into sunny city streets to begin her new journey as a rabbi. That journey will continue in August when she takes up her new post at Congregation Bayt Shalom in Greenville, North Carolina.
Below photo: Rabbi Stanton congratulated by a friend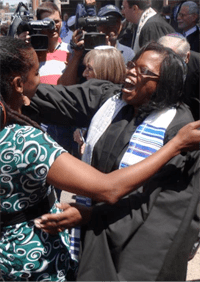 Brad Seligmann is a student at Xavier University in Cincinnati, studying political science and theology. He was recently a Fellow with the Interfaith Youth Core.
1/1/2000 5:00:00 AM