Long before the rise of praise and worship music among mainline black churches, in the late 1980s and 1990s, Judith Christie McAllister was ahead of the curve. In breakaway recordings while she was Director of Music of the Los Angeles-based West Angeles COGIC, McAllister recorded simple choruses and worship-centered songs: Saints in Praise Volume 1, Saints in Praise Volume 2 and Lift Your Hands. Although squarely in the COGIC style of congregational singing, it would be years before this would catch on as the fastest growing sub-genre of the Christian music industry. McAllister's excellence as a worship leader earned her the title of "Preeminent Woman of Praise & Worship" and now of President of the International Music Department of COGIC. In 2000, McAllister founded her own record label, Judah Music, releasing Send Judah First, in 2001, Raise the Praise in 2003, and in 2006, In His Presence.
Few artists of any genre have commanded the respect of musicians and fans alike as has Houston-born and COGIC-bred Kim Burrell. The daughter of a COGIC pastor, Burrell is an unusual vocal talent, whose chops could easily place her in straight-ahead jazz circles without skipping a scat. In November 2000, at the annual COGIC Convention in Memphis, Tennessee, Burrell recorded her Live In Concert project, which earned her a Grammy nomination for Best Soul Gospel Album in 2002. Burrell now serves as the Commissioner of Levitical Leadership of the COGIC and has recently released a long awaited and critically acclaimed album, No Ways Tired.
Below photo courtesy of www.mary-mary.com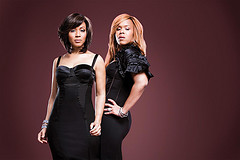 The singing sister-duo, Mary Mary, burst onto the scene in 2000 with a fresh, energetic, bold sound, signaling it was indeed a new millennium in gospel music. Their career defining single, "Shackles," a danceable, crossover, praise-centered hit, earned them high sales numbers, multiple industry awards, and the respect of gospel traditionalists. Born in Inglewood, California and raised in COGIC by a youth minister and choir director, their success in gospel music has launched them into other pursuits such as a bath and beauty line, a designer t-shirt collection, children's books, interactive computer games, stage work, and television. As icons of contemporary gospel music, Tina and Erica's fifth project, The Sound, is promoted as "tailor-made for both the street and the sanctuary."
In this brief look down the corridor of gospel music history, we recognize just a few of the many outstanding contributions of COGIC women to the development and dynamism of gospel music.
Melinda Weekes, a gospel music theorist, fuses her deep passion for the rich religious and cultural traditions of African Americans with her ministerial and academic training. On Sunday evenings from 7-10 pm EST, you can hear her as host of The Soul Sanctuary, a weekly gospel music Internet radio show. She is ordained an Itinerant Elder of the African Methodist Episcopal Church and serves as Chaplain to the Protestant Community at Simmons College in Boston, MA.
6/10/2009 4:00:00 AM