To experience a prayer practice with Deanna's sacred jazz, click here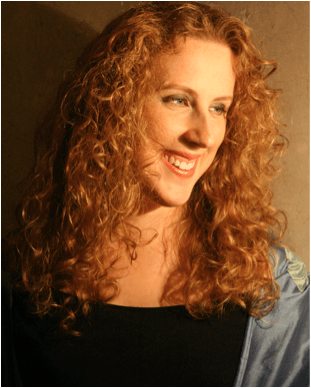 Pianist, composer, and vocalist Deanna Witkowski has gained a reputation as "one of the best of the new generation of jazz pianists" (Jazz Journal International) through her unique expressions of jazz, Brazilian, and Afro-Cuban influences on display in her first three CD releases, "Having to Ask" (2000), "Wide Open Window" (2003), and "Length of Days" (2005).
Ms. Witkowski won the Great American Jazz Piano Competition in 2002, has appeared on National Public Radio's "Weekend Edition Sunday" and "Marian McPartland's Piano Jazz," and since 2006 has been the pianist in the BMI/New York Jazz Composers Orchestra, led by Jim McNeely. Her latest CD, From This Place, is an overt expression of the faith and spirituality that have been integral to her life and behind all of her music. (Listen to the title track from From this Place here) Listen to more of Ms. Witkowski's music at www.deannajazz.com.
Deanna, you describe your new CD as "Sacred Jazz." How is that different than your other music?

I really don't see it as different. I called it Sacred Jazz to help those who are familiar with my work to know this CD has a little different focus, but I don't see the world divided that way.
How do you see the world?

Wow, that's a big question! I was raised in a tradition that saw itself as a small Christian minority set over against the world, and it tended to be a bit enclosed and defensive. But now I see that God is present in all things and we are invited to be Christ-like in our everyday lives. So I'm more at home in the world, because it's God's world.
How do you intertwine your spirituality and your jazz?

If I can say it this way, jazz fits inside my spirituality. I recently found a quote from Mary Lou Williams that I'd never heard before (and I hope I get this right!): "Jazz and prayer are twin mates of spiritual expression." For me, playing jazz is an intense form of listening, just like prayer. Making music is a willingness to receive and to give.
As an artist I find that painting for me is a form of prayer, though in a very non-linear way. Is music that way for you?

Playing is definitely a form of prayer practice for me. I find that I become unselfconscious and feel quite safe. Prayer feels that way to me. I'm able to be myself sitting in God's presence, and that same joy is often present while I'm playing jazz.
On your website Martin Marty is quoted as saying, "Improvisation is a metaphor for God's acts towards creation." What has jazz revealed to you about God and your faith?

Since much of the music I play is with others, it has to do with playing and interacting with other people. I've played with one of my band members for eleven years and another two for eight. It's taught me to trust other people, and it's teaching me to trust God, particularly with practical things. I experience joy when I play this way with others and it's a reminder that God wants me to experience joy and be myself. I can let my guard down and be who I am.
Faith can often be seen as holding eternal truths, yet music, and jazz in particular, is all about improvisation and the new. Is there a tension there for you?

I'm not sure what I believe about this. The mystical tradition points to the love of God as the essential thing that underlies everything else. And I believe God is always creating new things and teaching us new things. In our limited way as human beings we can only know God to a small extent, but that small extent is huge for us. The love of God is the thing I'm most sure of, and it seems to be the most important thing in all religions. I've had the pleasure of playing jazz in all kinds of liturgical settings and theological contexts and it's made me think more broadly about what I believe. What I can say is that I've had a deep connection with and experience of God's love in all these different settings.
How would you ask people to approach your music?

First, to be open. My music is not necessarily traditional or does it go places that are expected harmonically, compositionally, etc. And I know that sometimes terms, such as "sacred" or "jazz," can get in the way and prevent people from really being open to the music itself. I hope that people will just be open to what happens to them and how it makes them feel. Most of the sacred jazz I do is around scriptural texts and that is often listened to differently. The jazz on From This Place is more easily accessible than what I usually do and my hope is that the text does not get in the way of people's experience.
6/4/2009 4:00:00 AM