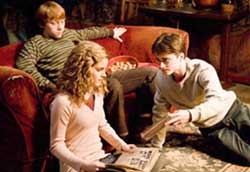 In fact, if you don't know something about this series already, you will have real trouble figuring out just what all the fuss is about.
Harry Potter and the Half-Blood Prince(2009). Directed by David Yates, written by Steve Kloves from the novel by J.K. Rowling. Starring Daniel Radcliffe, Rupert Grint, Emma Watson, Jim Broadbent, Helena Bonham Carter, Robbie Coltrane, Michael Gambon, Alan Rickman, Maggie Smith, Tom Felton. Released by Warner Brothers Pictures. Rated PG. Occasionally intense violence.
For another prespective on the Harry Potter phenomenon, read Tim Dalrymple's article, Harry Potter, Waldo and Jesus.
7/21/2009 4:00:00 AM