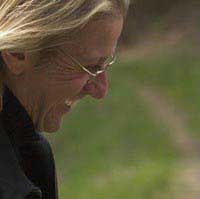 Ask John Steiner about the inspiration for his new solo piano album, and you are likely to receive a divine response.
"I feel most connected to the flow of spirit when channeling new music," says the composer of Into the Green (Philomuse), the follow-up to his critically-acclaimed album, Out of the Blue. "Many of my improvisations eventually become written compositions ending up on my CDs. My intention is to bring healing vibrations to the world through my music."
Some of the tracks on Into the Green are inspired by piano improvisations Steiner created during services at the First Presbyterian Church of San Rafael, California and the San Francisco Center for Spiritual Living, where he is a regular worship leader. During a performance in December, for example, he worked with suggestions from the audience regarding mood or thought, and created improvisational pieces on the spot. A woman in the audience suggested the word "peace," and subsequently, a final version of the resulting improvisational piece is found on his new CD, aptly titled "Peace."
Recorded in the Sierra Nevada Mountains, Into the Green's refreshing sound may have been enhanced by the long hikes Steiner enjoyed during his time off from the recording process. The new album was produced by J S Kingfisher (Vesica Piscis, Muzoracle, Musician's Dice) and is scheduled for release on his innovative Philomuse label July 21, 2009.
On the same date, Philomuse is also reissuing Steiner's earlier album, Out of the Blue, which received the following praise from CD Baby: "With romantic and impressionistic influences, this is the perfection of classical embracing easy listening. These elegant, moving and cozy pieces for piano, cello and vocals are the epitome of this genre...way too intelligent to skip past."
A New York native, Steiner made San Francisco his home in 1989 and works professionally as a performer, composer, producer, pianist, and keyboardist. He holds a B.A. in Music from San Francisco State University.
We caught up with John recently and talked with him about the inspiration for his music, his church work, and what he hopes people receive from his music.

Patheos: How would you describe your new CD, Into the Green?
Steiner: I would say the music is reflective, uplifting, meditative, and healing. The pieces come from a spiritual place and serve a grounding and joyful place in my life.
:::page break:::
Listen to two tracks from Into the Green:
John Steiner - Midnight
John Steiner - Be Thou My Vision
Patheos: People often struggle to "categorize" your music. What words do you use to describe your music in general?
Steiner: Modern romantic, artful, evoking the spirit, awakening the deeper self.
Patheos: I have a sense that your music is an extension of your spiritual life. How would you describe the connection between your music and your life?
Steiner: It's such a big part of my daily life. Whether I'm gigging, composing, or improvising, if you'll excuse the pun, music really is the rhythm of my life.
7/21/2009 4:00:00 AM