I would like to close the sermon with one more observation about the text. God works through Christ to form and shape the church into the image of God. And this entire passage is a taste of the fullest form of the Christian life. Even the use of the verbs is critical here, for it prays that we will "know" God, using the same word that is biblically used when husband and wife "know" each other and produce life. That "knowing" in this passage is that intimate. And that is the breadth and length and height and depth of what we are being invited into: God as the lover with whom we have union, and thus create life, God as the one who loves even enemies.
For this reason I bow my knees before the Patera, from whom every patria in heaven and on earth is named,
that, according to the riches of his glory God may grant you to be strengthened with might through the Spirit in the inner being, and that Christ may dwell in your hearts through faith;

that, being rooted and grounded in love, you may have power to comprehend with all the saints what is the breadth and length and height and depth, and to know the love of Christ which surpasses knowledge,

that, you may be filled with all the fullness of God.
Now to him who by the power at work within us is able to do far more abundantly than all that we ask or think,to him be glory in the church and in Christ Jesus to all generations, for ever and ever. Amen.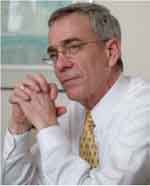 The Rev. George Anastos is the senior minster at First Plymouth Congregational Church in Denver, CO.
---
1 Walter Wink, Engaging the Powers: Discernment and Resistance in a World of Domination (Minneapolis: Fortress Press, 1992), 263-264.
2 Ibid., 264.
7/31/2009 4:00:00 AM