By Fr. Mike Boutin
Therefore I tell you, do not worry about your life, what you will eat or drink; or about your body, what you will wear. Is not life more important than food, and the body more important than clothes? Look at the birds of the air; they do not sow or reap or store away in barns, and yet your heavenly Father feeds them. Are you not much more valuable than they? Who of you by worrying can add a single hour to his life? Matthew 6:25-27
Click here for a great international musical approach to not worrying.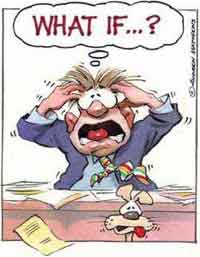 A friend of mine got a scary health diagnosis this past week...and I worried: will he be okay? Will the diagnosis be worse than originally thought? Will he need chemo? Will he die?
My mom has moved into a new home and begun a new chapter in her life...and I worried: Will she make new friends? Will she like her new home? Will she adjust to her new surroundings? Will she miss the old house?
My parish is planning a big outdoor Mass in September...and I worried: Did we order enough chairs? Will the weather hold out? Will it be a success? Have we remembered to do everything?
I worry a lot...about my health, my family and friends, my relationships, my work...But I don't think I'm alone in the worry department. I think generally, we worry a lot about a lot of things.
But for what? What does it really accomplish? Will my friend get better because I worry about him? Will my mother's home be more comfortable if I worry enough? Will the sun shine even more brilliantly on our outdoor Mass if I worry just a little more?
"Who of you by worrying can add a single hour to his life?" Not a second more added to my life. But how many hours of worrying wasted without ever being able to alter the plan of the cosmos...
So this is my belated New Year's resolution: no more worrying...at least for this very moment as I type this...I entrust my worries and concerns to Christ...I nail them to the cross....I place them in his loving embrace....I look into his eyes, and give him my concerns, and with a heavy heart, I ask Him to make it right...to make me right...to give me His peaceful heart....
The Lord smiles: "I know your worries..I know your heart. You worry because you love. You need to love and then trust that I love them too...But they are mine, not your concerns. The Father will resolve them in His way and in His time...not according to your plan or even in your time or understanding...but in a way that comes to good for all those who believe....
Believe in me and trust...stop worrying..."
Now pray....
8/24/2009 4:00:00 AM