By Christian Buckley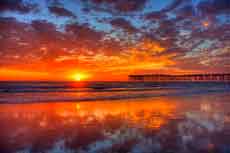 For what can be known about God is plain to them, because God has shown it to them. For his invisible attributes, namely, his eternal power and divine nature, have been clearly perceived, ever since the creation of the world, in the things that have been made. So they are without excuse. (Romans 1:19-20 ESV)
As a surfer, some of the most profoundly connective experiences I have had to God have come in the water. For me, the best time to surf is at sunset, often referred to as an "evening glass-off" session in southern California. At sunset during the late summer months, the wind is calmed and the surface of the water is stilled. The waves turn glassy, and as the sun drops beneath the horizon line of the ocean, the water turns mercurial in nature.
Over the past twenty or so years, it has been during these evening moments on my board that I have felt enveloped in God's creative love and power. It should come as no surprise that, as the Chairman of Christian Surfers United States (CSUS), I am a fan of the ocean and have a general desire to protect and enjoy it. I am a lifetime member of the Surfrider Foundation, and in my younger years I worked as a California State Beach Lifeguard, protecting and educating people in and around the ocean.
It might, however, come as a surprise that I neither really consider myself an environmentalist in the contemporary sense of the word, nor do I fully agree that the Bible, at least in the Old Testament, provides an obvious basis for environmental action by Christians. Spending the past several years both as a businessman and lawyer, I have struggled with the place of social investment of any form in the life of a believer, frequently trying to reconcile massive temporal injustice and suffering with the New Testament's call for believers to be eternally focused and unencumbered by earthly matters. For that reason, I am perhaps an unexpected and yet apt writer in this setting.
As a Christian, I make social investments. I actually make a lot of them. I think it is important to do so both personally and spiritually, but it is not absolutely important in the same eternal sense that true spiritual regeneration is. It is contextually important. I realize that Christ did create, by his mere existence and doctrinal providence, social change. He did, quite frequently, relieve suffering, feed the hungry, cure the sick, and help children. He actually restored life to the lifeless.
However, I also realize that Christ did not set social investment and change as his primary or even consistent agenda. He came to seek and to save the lost. He was born to live perfection and die perfection. He came to provide the sole means to an eternal relationship with God. (See Luke 19:10, John 14:6 and 17:3, Acts 4:12, 2 Cor. 5:21.)
Strangely enough, this is where the case for Christian environmentalism begins for me. For a person to accept Christ as savior, he or she must first become aware of the creator and sustainer God. I believe that for this generation, Romans 1:19-20 describes the purest mechanism for this initial connection: His creation.
In this passage, Paul makes it clear that because God reveals himself to each of us in and through His creation, we are without excuse concerning the knowledge of His existence. When God rested on the seventh day, He left in His creation enduring reflections of His perfection, power, brilliance, and goodness. Stated simply, creation reveals unambiguous markings of God's creative imprint.
For me, environmental action is defensible for the Christian not solely because, as described in Genesis 1 and 2, God created the heavens and the earth and entrusted them to Adam (a matter largely pertinent to God and not Adam), but because, as Paul explains in Romans, creation is one of God's primary tools of self-revelation and thereby human regeneration. For this reason, while the sustaining of the world remains a matter securely within God's sovereign control, it would nonetheless be a horrible indignity if mankind, through our selfish consumption of God's creation, obscured and destroyed the very same. How sad it would be if God's creative reflection were soiled such that generations to come were left with a continually degraded source of divine revelation.
At CSUS, we have the privilege of actually doing ministry in and with God's creation. Our mission is to see Christians who surf move from apathy about lost surfers around them, to awareness that they have been called by God to reach out, to active expressions of that call.
Our primary tool for reaching the two to three million lost surfers in America is in fact God's creation. Surfers are connected to the ocean and have a particularly dependent relationship with it. We spend the majority of our waking hours considering the waves, tracking tides and swells, and thinking about swell direction and ocean bottom contour.
9/15/2009 4:00:00 AM