By Fr. Mike Boutin
It is a good thing to give thanks unto the Lord,
and to sing praises unto your name, O most high:
To show forth your loving kindness in the morning,
and your faithfulness every night (Psalm 92:1-2).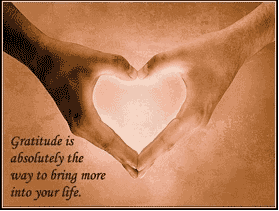 My birthday is this week, and this year, I am now officially in my "late" forties. But that's okay. Most of my hair, though grayer than before, is still on my head, but also in my ears and in my nose! My eyes are fine though my editors are probably tired of 18-point text! And tomorrow, when I meet my doctor for my annual physical, perhaps she'll tell me that for a 46-year-old man, I'm doing okay. So I thought I would take a moment today to count my blessings as I review the last 45 years of life and as I look with hope to the coming year:
I'm grateful to God for many things: for life itself, in all its mystery and wonder. I'm grateful for my health, and my mind, and for being able to think, and dream, and laugh, and wonder, and feel joy and pain. I'm grateful for the relationships that nurture and sustain me in this life: for my mom who is such a paragon of strength, and for my sister and brothers, and for my nieces and nephews who always make me smile and laugh and remind me of the joy and vitality of youth.
I'm grateful for my friends who love me as I am and who are such sources of support and encouragement to me. I'm grateful for my ministry as a priest these past eighteen years, especially these last few years at Blessed Sacrament, Walpole, MA: celebrating Mass, preaching, hearing confessions, anointing the sick, counseling, listening to the stuff of people's lives. My life could not be richer or more rewarding.
I'm grateful for the beauty of the world we live in, and the chance to travel and see so much of it...to watch the sunset in the Caribbean, to listen to toucans sing in Costa Rica, to stand at the top of the Eiffel Tower, to celebrate Mass over the grave of St. Francis in Assisi...
I'm grateful for the gift of music, as a performer and as a listener; in music, God speaks God's love to us in ineffable ways.
I'm grateful for all those friends and family who have gone before me, and whom my faith tells me I will one day see again when I hopefully join their blessed company in the heavenly kingdom: my dad, my brother, my grandparents....friends and family....a wonderful company of saints waiting to welcome me Home one day (just not too soon, perhaps, Lord?!).
I'm grateful for the lessons I have learned these past 45 years: about charity, and kindness, and forgiveness, and love...the lessons I have learned about letting go of past hurts, of asking for forgiveness, and of humility....and especially the lessons I have learned about the enduring power of love, even beyond the grave.
I am so grateful to God for my faith, nourished in my family and through my Catholic education, that faith which sustains and upholds me, especially in the darkest moments of my life, and the faith that nourishes me each day as I strive to love Him who is the Source of all Love.
My life is blessed....hardly perfect, but blessed. Some days, I forget that, but at least today, I'm living my life with a truly grateful heart for all of God's many blessings to me.
For what can you be grateful today?
Now pray.....and while you're praying in gratitude, listen to this Gospel song about gratitude.
9/1/2009 4:00:00 AM