By Fr. Mike Boutin
Your word is a lamp to my feet and a light for my path. (Psalm 119: 105)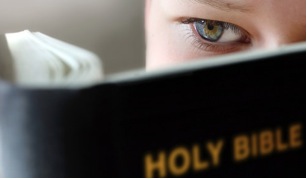 Listen to Amy Grant and Michael W. Smith sing about the truth of God's Word.
Students and teachers went back to school this week in my town. My parish has a school and so on Tuesday morning, I got to watch all the parents sending their kids off to school, many of them for the first time.
Some parents were teary-eyed as they sent their little ones off into battle armed with book bags on rollers and their ill-fitting school uniforms, while the parents and students who were old pros at this September ritual shouted a quick goodbye as they ran into morning assembly and the parents headed off to Starbucks to chat about summer adventures while their kids returned to schedules.
I still remember my first day of school. The old photo attests to it: my hair slicked back, smoothed down from a lick of spit (no fancy hair gels in those days...), my navy blue pants and light blue shirt, along with my clip-on tie (standard Catholic school uniform in the early 1970s), and my brand new bookcase ready to take on the world.
Within a few short months, my world would be forever changed. I had learned how to read and write, and nothing would be the same.
Have you considered what a gift it is to read and write? By the written word, I can meet Romeo and Juliet in Verona, be on a whaling ship with Captain Ahab chasing after Moby Dick, or sail down a lazy river with Tom Sawyer and Huck Finn. By the written word, though we have never met, every time you read these words I have written, we have a relationship. And of course, through the written Word, I meet my God every time I open the Bible and read about the stories of the great women and men of our faith, and as I learn again how those stories are my story as well.
The story of Abraham and Sarah trying to follow God's call... the story of the Israelites and Moses wandering around in the desert looking for the Promised Land... the psalmist David singing of his joys and sorrows and frustrations and failures... and the Word made flesh, Jesus the Christ, whose Word is still and always the fullness of the truth, and who speaks to me a word of healing, encouragement, and salvation.
These stories are the story of my life and I suspect, your life too: trying to follow God's call...wandering around in this desert looking for the Promised Land...singing and crying out about the stuff of our lives...longing for Christ's Word of hope and healing...
God's Word is alive: it brings about meaning and helps us to understand truth.
God's Word is truth: not the fiction of Melville or Shakespeare or Twain, but instead the eternal truth who is God in Christ, always ready to reveal something to the reader who longs for deeper faith and meaning.
Now pray... but be sure to do it today with an open Bible and an open heart.
9/7/2009 4:00:00 AM