Becoming a Mentch
Alan immediately jumped into this fresh experience. "I went to the next class, and he [the rabbi] gave me my first Chumash." As he went forward in his studies, Alan grew more and more focused. Slowly, internally, he helped Shlomo grow, he inspired himself through Torah, and learned "what is it going to do me. How is it going to hit me right in my gut and make me a mentch. How is it going to make me better." Suddenly, Alan began to notice Shlomo, and together, they worked to help each other grow.
"It was not until 2001 when I met a couple Chabad rabbis and I went to their homes for Shabbat. I started going to their houses more and more and more until it was almost every week." As Alan began to understand Shlomo, he did more and more to help Shlomo come alive. He realized he could take "this feeling of Shabbat and stretch it throughout the entire week."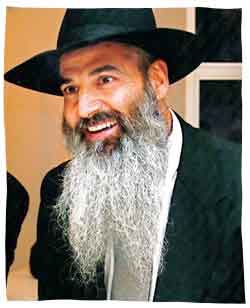 And so, with this in mind, Alan, invited by a friend to come visit Israel, began to truly stretch out his inspiration, to truly invite Shlomo to share his life. "I got on an airplane and I put on a yarmulke," Alan finally let Shlomo out of his shell. From that day forth, Alan always wore a yarmulke. From that day forth Alan and Shlomo became true partners.
While Shlomo inspired Alan, Alan taught Shlomo how to be a champion. Alan "had been groomed with many, many years of discipline and work ethic and focus and sacrifice, to give things." Alan knew what it meant to work for the Ultimate Goal. And now, he was going to teach it to Shlomo.
Alan taught Shlomo how to prepare, how to get into game mode. He taught Shlomo that being a champion meant work. It meant preparation. Alan taught Shlomo that, "as a football player, it takes six hard days to prepare yourself properly for a game." Just as one of Alan's favorite coaches once taught him, Alan now told Shlomo, "You need to be dressed ready to go. You need to have your workout book with you." As Alan helped Shlomo, they both grew together. Every time they progressed, just as when Alan used to weight train, they became inspired. Every time they saw the results, they became more and more excited.
Shlomo Shines
It did not take long for the people close to Shlomo to begin to realize his presence and inspirational journey. Toward the end of his father's life, Shlomo began inviting his father more and more to spend Shabbat with him. After some resistance, he finally gave in. As Shlomo put it, "He saw, he tasted." His father finally saw Shlomo shine. "He was truly inspired. He saw what I saw and he was growing." His father had never been prouder.
One day, Shlomo's father, who had seen his son grow from a young student in Florida to a successful college football player in Texas to a Super Bowl champion, turned to him and said, "I'm prouder of you wearing a yarmulke than I ever was with a football helmet on your head."
Shlomo explained: "You have to understand who this was coming from. It was coming from a very proud father. A father who made sure every game I ever played was video taped. A man who watched every game. He was my biggest fan. He never walked out of the house without my football card in his pocket."
It was this father, a father who had so many reasons to be proud of his son, that told Shlomo this. Shlomo had won the Super Bowl. He had experienced things most of us only dream of experiencing. And yet, when his father said this, nothing in the world meant more to him.
It is no surprise, then, that Shlomo realized he and Alan could use their journey to inspire others. Shlomo, probably one of the most articulate football players ever to emerge from the NFL realized the power of what he had been through, and became committed to telling his story. He understood why he had stayed hidden so long and why Alan did not let him out until later: "I think the reason I played, I think the reason I am wearing a Super Bowl ring, is to tell somebody my story."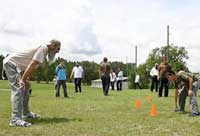 Shlomo now travels around the world telling his story to anyone who will listen. With his powerful presence and charismatic personality, he has helped change many Jewish lives, helping others grow. He has gone from being a champion in the game of football to a champion of Judaism.
Even with all this, it would probably be fair to ask Shlomo whether he misses his old life. He had a lot, and now his life is significantly different. Shlomo has indeed been asked this many times since he and Alan became partners. In response, he simply says there's nothing better, including winning the Super Bowl, than "Sharing your story with somebody with the hopes of after they hear your story the will say, 'you know, Shlomo, I've struggled with wearing a yarmulke, but now that I've heard you speak I am going to wear my yarmulke full time.'"
"Do I really miss it? What is there to miss?"

This article was first published at Chabad.org and is reprinted with permission.
Elad Nehorai is an alumnus of Arizona State University and Mayanot yeshiva. You can find Elad wandering around America, gallivanting around Israel, or getting lost in the clouds. His favorite things to do include reading, writing, and conversing with G-d.
10/16/2009 4:00:00 AM