By Salma Hasan Ali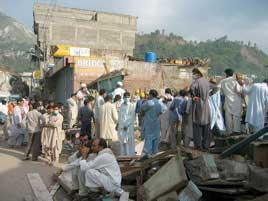 Four years ago today, a 7.6 magnitude earthquake devastated Kashmir. More than 80,000 people died. Three-and-a-half million were displaced. Nine thousand schools were destroyed.
I recently went near the epicenter of the earthquake, to a small town called Patika, northeast of Muzaffarabad, the capital of Pakistani-controlled Kashmir. I was visiting several of the schools rebuilt by Greg Mortenson's Central Asia Institute. (Mortenson is author of the best-selling book Three Cups of Tea).
My guide was Shaukat Ali, a 29-year-old math and science teacher at the Gundi Piran girl's school in Patika. He described to me the day that he will never forget. He was teaching 10th-grade English at a nearby boys' school when he heard the noise. "It sounded like bombs blasting," he told me. "The building started to shake. 'Bhago,' I yelled. Run! I was thinking, I'm going to be crushed. I'm going to die." Half the building collapsed. But not the half that he and his students were in. Classes in that half would have started at 9:30 a.m. Three hundred and twenty students were saved.
He ran to the Gundi Piran school. The school building had already collapsed by the time he got there. Girls were trapped. "They were crying for help. I couldn't do anything. There was no equipment. We couldn't get to them," Shaukat bhai (brother) told me, his face serene, his eyes glistening. That day, 103 girls died at the school.
"One of the girls, Sara, was in the middle of writing; her pen was still in her hand when we found her," Shaukat bhai recalled. "She was maybe 15 or 16. She was doing her science exam. I buried her. One girl always used to wear big earrings to school; that's how I recognized her. Her face was too badly damaged. Shaukat bhai recounted story after story. "I cannot forget. Not one family has been spared."
The earthquake happened on the third day of Ramadan, the holiest month in Islam when Muslims fast from sunrise to sunset. Shaukat bhai did not break his fast early that day. He kept his fast the next day too, when he walked back to his village to discover that his sister, brother-in-law, and 100 people in his extended family had died. And the next day, as he dug out dead bodies and carried them over a dangling bridge to their families for a proper burial. And the next day, as he hauled heavy bags of rations for several miles to feed his remaining family. He missed one day of fasting that month, when there was absolutely nothing to eat. Some days he would open his fast by sharing an apple.
What faith, I thought to myself. This is what lies at the heart of Islam -- courage, compassion, commitment, and sacrifice. Why is it that we don't hear about this Islam?
The more I spoke to Shaukat bhai the more it became clear what an ardent advocate he is for girls' education. "I encourage families to send their daughters to school. And because I'm from a maulvi (religious) family, they listen to me." His older sisters had to drop out of school when his father died and the family could no longer afford it, but he's supporting his younger sisters and his nieces in their schooling. "Education is a must for ladies and gentlemen," he told me. "Prophet Muhammad said that it is against Islam to say that girls should not go to school. You should educate your girls. Educate them separately. But educate your girls," said Shaukat bhai repeatedly.
This is not what you would expect to hear from a man with a thick black beard in this very conservative part of Pakistan -- who, not long before, had been a member of the Taliban.
"Islam doesn't tell anyone to kill on the basis of religion," Shaukat bhai said. "Extremism is bad. We should follow the moderate way."
I wondered what it would take for this sound bite, from a bespectacled, bearded former Taliban, to make it on the nightly news.
Salma Hasan Ali is a writer focusing on cross-cultural issues and South Asia.
10/21/2009 4:00:00 AM