An Interview of John Frame
This is Part Two of a Patheos interview with John Frame, a Harvard student who sought understanding and appreciation of the lives of the homeless by becoming one. Read Part One here.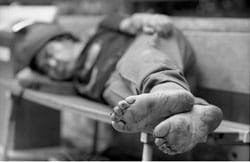 How do you think that this experience fits in with your life as a student? Some students find spiritual life in college or graduate fellowships, in local churches, or even in their classes. Others find spiritual life in off-campus activities. You went to the margins, to live with those whom society has rejected. Why do you think you went to the margins?
The homeless community here has been part of my life as a student since I came to Cambridge one year ago. I met George the first Sunday I was in town -- really the first time I ever walked through Harvard Square after moving there. George and I established a relationship that continues to this day. He has been an important resource in my learning, thinking, and writing about homelessness.
I don't think I had pegged homelessness as my area of research interest when I came here. I was drawn to helping and getting to know George that evening out of something spiritually compelling. I was supposed to incarnate Christ and help or befriend George when I met him.
I must acknowledge that there has been some level of change in my own spiritual and ideological journey over the past year. When I first moved to Harvard, I remember feeling a certain uneasiness when I would leave the safety of Harvard Yard to enter the unknown-ness of Harvard Square. Would I see a homeless person that I would feel compelled to help or talk to? Would I feel convicted or uncomfortable by their presence and my inaction, if I chose not to engage them?
These feelings have left me in many ways. Of course, maybe this is because I know many of the homeless and have lived in Harvard Square myself and have developed a clearer understanding about homelessness. But, perhaps it is even more an indication of a lack of conviction about intentionally or overtly sharing my faith as I once did.
So while Harvard has helped me become a more socially conscious person, perhaps the influences here have "watered down" my desires to share my faith overtly with those I think may not know Christ. One thing that may help me gauge this change is the way I have, and now do, interact with strangers at a dinner table. When I attended a previous university, I would, about weekly, attend a free dinner at the local Christian Center soup kitchen in town. I often guided many of the conversations I had there toward the topic of Jesus or my personal faith, but not in a confrontational way.
Similarly, over this past year, I have attended the free, weekly dinner at Christ Church Cambridge. I do not, however, often find myself entering into the kinds of conversations that I used to have. This is partly because I generally sit with the same people. We have moved beyond these introductory kinds of conversations. But I also find myself less concerned about openly sharing the things I once used to. Instead, I think more in terms of sharing myself and my time with others.
I have come to accept people more than want to change people. I think Jesus did both, though. However, one thing remains consistent: I still believe it is important to interact with others, sharing meals and time with them. I have often thought of Jesus' teaching and how it should lead us in our actions: "When you give a luncheon or a dinner, do not invite your friends or your brothers or your relatives or rich neighbors, in case they may invite you in return, and you would be repaid. But when you give a banquet, invite the poor, the crippled, the lame, and the blind" (Luke 14:12-13). I still have a long way to go.
Regarding the aspect about finding spiritual life in local churches, that is something I gave up on a long time ago. My disenchantment with the church as we know it today -- primarily through seeing the church not be what the church should be -- has brought me to the place where I don't go to church for spiritual edification. If anything, it can bring me frustration.
I am, however, sometimes spiritually edified by going to a church service (which I do regularly). Frustration comes out of seeing the church become focused on itself. The church has become an organization that is focused primarily on edifying its members, maintaining its facilities, etc. The person, work, life, death, and resurrection of Jesus are so much more than that. How the church became more focused on itself, and less on incarnating the work of Jesus is unfortunate.
10/13/2009 4:00:00 AM