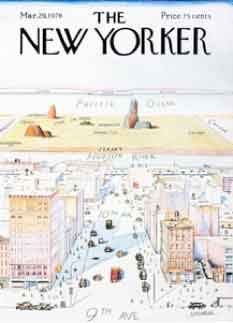 This essentialism prevents Fingeroth from allowing for the possibility that other immigrant groups in New York might have contributed something to immigrant Jewish culture. New York is a stew, and it's a little difficult to isolate ingredients like "humor" and attribute them to a single immigrant group. Along these same lines, Fingeroth appears to conflate the New York (and Cleveland) Jewish immigrant experience with the immigrant experience overall, which puts me in mind of that famous map of the New Yorker's view of the rest of the country.
However, bearing these drawbacks in mind will not disturb the appeal of this book, or undermine its value. It is a Valentine to creators past and present, a tribute to the courage and strength of the European Jews who fled pogroms and kept their families alive in the face of the most frightening of threats, and a moving correction to the current nastiness thrown in the face of America's newest immigrants.
Fingeroth makes a devastating case for the role of immigrants -- nearly all of us -- in creating a shared culture of truth, justice, and the chance to make a difference in the world.
10/2/2009 4:00:00 AM