By Allyson Felix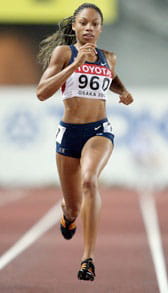 My faith is definitely the most important aspect of my life. My dad is a seminary professor and I grew up in a very strong Christian home. Our family was very involved in our church. I am so blessed to have my family and the upbringing that I did. It means so much to me to have two very godly parents who both have so much wisdom. They are amazing role models that I have had the privilege to watch as I grew up.
I came to know Jesus Christ as my personal Savior at a very young age. Ever since then, I have continually been striving to grow in my relationship with God. I was nowhere close to the perfect child. I had my share of difficult times along with some disappointing choices that I made, but thankfully God never stops loving me.
I'm currently a work-in-progress and like anyone else I face struggles every day. My goal is to be more Christ-like each and every day and that is not an easy task. I know that I'm trying to be something different from other Olympic runners and after I run I hope that people can distinguish Christ-like character in the way I present myself.
I try not to focus on the pressure surrounding me. I love Philippians 4:6-7 that says, "Do not be anxious about anything, but in everything, by prayer and petition, with thanksgiving, present your requests to God. And the peace of God, which transcends all understanding, will guard your hearts and your minds in Christ Jesus." That verse always encourages my heart when I am dealing with any kind of pressure, and throughout the struggles of life my faith calms my heart. I try to stay in the Bible and I pray a lot, just talking to God. He provides my strength and wisdom.
In the season of my life that I am in now, I feel so blessed that God has given me the talent of running. My running is an amazing gift from God and I want to use it to the best of my ability to glorify Him. You have to have this passion and you have to have a reason for doing what you're doing. And there really has to be a purpose there, I think that's what drives success. I know my talent is from God. And that's my purpose: to run to glorify Him.
I'm thankful that I have been given this platform so that I can share my faith with the world!
Listen to Allyson's story:
Allyson Felix is a U.S. track and field athlete. She has won two Olympic silver medals in the 200-meter event and an Olympic gold at the Beijing 2008 Olympics as a member of the 4 x 400 meter relay team.
10/16/2009 4:00:00 AM