By Rebecca Curtin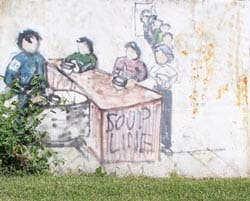 On September 11, 2001, several hours after the planes hit the World Trade Center and the Pentagon, the administration of the University of Notre Dame organized a mass on the University's South Quad so that the academic community and the larger surrounding communities of South Bend and Mishawaka, Indiana might gather in their fear and grief. I was at that time just beginning my sophomore year and was called upon as a member of the Notre Dame Chorale to sing for the service. From the vantage point of hastily assembled choir risers, I looked out at thousands of faces worshipping together, remembering family, friends, and alumni who we already knew were dead and praying for the thousands more whose fate at that time remained unknown.
I heard that ten thousand people were on the quad that beautiful and sad late summer day comforting each other. Catholic or not, religious or not, a community gathered there because of a collective need to worship and pray in times of tragedy and grief. It made sense to participate in national mourning through this common mode of spiritual practice.
While the events of September 11th were singular, examples of community worship at Notre Dame were plentiful. Mass was held, it seemed, for everything: to usher in the new academic year, to pray for the football team, to welcome visitors, or to send students about to graduate off to their future. It was as though mass became a place of intersection, where a secular event was set apart and made special because we celebrated it through worship. These services sometimes created a feeling that the University community was one large religious organism made up of thousands of little cells with an identical spiritual practice. Large gatherings of worshipers deceptively masked the diversity of religious experience that lay just below the surface. What united these people of diverse religious beliefs and experiences was the understanding that our secular and spiritual lives could and even must unite and a Catholic university was quite a good place for them to do so.
According to the Association of Catholic Colleges and Universities, in 2005 there were more than 240 Catholic colleges and universities in the United States. This past May, while introducing the University's controversial commencement speaker, President Barack Obama, University President Fr. John Jenkins said, "Tapping the full potential of human reason to seek God and serve humanity is a central mission of the Catholic Church. The natural place for the Church to pursue this mission is at a Catholic university.
The University of Notre Dame belongs to an academic tradition of nearly a thousand years -- born of the Church's teaching that human reason, tempered by faith, is a gift of God, a path to religious truth, and a means for seeking the common good in secular life." It is interesting to note that a report put out by the Higher Education Research Institute showed that in 2007 students at the University of Notre Dame were almost 12% more likely to perform community service than the average American college student. Education there is understood as a serving the common good.
In such an environment, students often undertook the pursuit of harmony. As undergraduates we integrated religious life into our own. We took study breaks in our sweatpants to attend an all-women mass in our dorm chapel, we studied and took our exams in classes displaying crucifixes, we ate in the dining hall under a large mural of the Last Supper. There were constant opportunities for volunteer work and community service. Everywhere was the juxtaposition of the secular idea of preparing for a career and constant reminders that we were supposed to be nurturing a spiritual life. We were given the sense that we are not complete without both these sides of ourselves. It was difficult to draw the line between what was secular and what was spiritual practice.
Tim Muldoon states in his recent article "Does College Kill Faith?" that "college can nurture faith if it is a place where students' faith questions are honored, if resources from the long historical conversation about faith are entertained, and if those who intelligently practice faith are welcomed as mentors." I would like to add that colleges and universities can nurture faith by imbuing in their students a sense that the spiritual life is just as important as and cannot be separated from the secular life.
10/27/2009 4:00:00 AM