By Anthony N.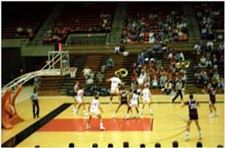 Sometimes religion will cause a disruption in sports, though not often. We usually overlook connections between athletes and their faith, until someone sacrifices one to give priority to the other. It's obvious that the Christian majority is more willing to make religious sacrifices, with Sunday events plentiful on sports calendars, and even falling on the holiest of Christian holidays. But for other sectors of the spiritual world, the decisions aren't that easy, and regardless of decisions made, they may face scrutiny for their choice.
No one ever questioned whether Kareem Abdul Jabber, a Sunni Muslim, partook in the ritualistic December fasting in observance of Ramadan. It didn't matter, as long as his sneakers were laced and on the court for the scheduled games. But in 2004, when Dodgers outfielder Shawn Green chose to skip crucial games in the closing month of a heated division race between San Francisco and Los Angeles, he was heavily criticized by fans believing his salary should direct his priority, and praised by the Jewish community for choosing to observe Yom Kippur instead.
The culmination of religion and sports is clearly visible on collegiate playing surfaces. Catholicism rules at institutions such as Notre Dame, Georgetown, and Loyola. Brigham Young athletes are typically older than their NCAA counterparts, as these Latter-Day Saints often embark on two-year missions before completing their academic and athletic commitments. We have Southern Methodist, Texas Christian, and a slew of other schools founded by faith. With many of them offering athletic scholarships and opportunity to advance to higher levels, the high school athlete is sometimes faced with priority issues. This was recently evident with Hawaiian linebacker, Manti Te'o (LDS), banking his athletic future on the Fighting Irish of Notre Dame (Catholic), without giving much consideration to BYU (LDS). It was an obvious choice for a young man looking to be launched to professional playing fields. Brigham Young will make you a better Mormon, but chances are the Irish will make you a better football player, or at least grant you a national stage for audition.
This all brings me to Eitan Chemerinski. Of course, you've never heard of him. Few know of the 6-foot 9-inch forward, and as his coach puts it, "he's the best player no one has ever seen play." Chemerinski attends Jewish Day high school in Rockville, Maryland and is soon headed to Cornell to play in the Ivy League. He has spent his entire life honoring Shabbat, meaning that from sundown Friday to sundown Saturday he has observed the period of rest without participating in any activities. He will now sacrifice religious tradition to appear on the Cornell roster and attend their classes, with his family making academics the new priority.
So, for the sake of argument, I pose this question. Regardless of religious affiliation, would you be willing to accept the risk of conversion for yourself or children if it meant acceleration through sports?
Read the entire article at SportsJabber.net.
Anthony, a knowledgeable college football fan whose team of choice is the USC Trojans, writes about a variety of subjects and is always willing to help aspiring writers to make their dreams come true. He particularly enjoys correlating sports with real time issues in this world.
10/16/2009 4:00:00 AM