By Jan Richardson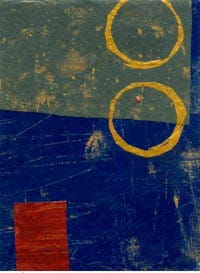 As I write this, I'm en route from Orlando to New Brunswick, Canada, where I'll be leading a women's retreat as we prepare to enter into Advent. It seems fitting that my journey into Advent, a season characterized by waiting, is beginning with flight delays. The delay in Orlando turned out great not only because the extra hour and a half that I spent there provided one of the calmest interludes that I've had amidst the extra-full pace of the past few weeks, but also because it reduced the amount of time I'm currently having to spend laid over at an airport that shall remain nameless (but it rhymes with Slewark).
The airport is absolutely crammed with people, and my inner introvert is reeling. I'm usually really good at being able to find a semi-quiet spot in any airport, but this evening I'm doing well just to have found a few square feet of space here on the floor outside a door marked "Bus Hold Room" as I eat my second turkey sandwich of the day. (Not because I have a hankering for turkey; let's just say that the Rhymes-with-Slewark airport could do with a few more food options at this terminal.) Amid the masses, it feels like I'm in some cosmic way station. I find myself marveling at the endless variety by which humans can take shape, and also overwhelmed by their sheer numbers, close proximity, and noise.
All in all, I'm finding this a good place to think about the apocalypse.
Each year, the lectionary for the first Sunday of Advent gives us a version of Jesus' words about the end of days. This year Luke does the honors. In Luke 21:25-36, we read of celestial signs, cataclysms of nature, and distress upon the earth. Jesus speaks of fear and foreboding that will come upon the people. He tells of how, in the days to come, the powers of the heavens will be shaken.
Along with its parallels in the gospels of Matthew and Mark, this passage forms part of what is sometimes called the "little apocalypse." It seems a sobering and grim way to welcome us into a season that in the Christian tradition is a time of expectation and celebration and that the wider culture typically depicts as cheery. Yet in greeting us as we cross the threshold into Advent, this apocalypse-in-miniature reminds us that this season bids us not only to remember and celebrate the Christ who has already come to us, but also to anticipate and look toward the fullness of time when he will bring about the redemption of the world.
That's what Jesus is really getting at in this passage, after all: he is not offering these apocalyptic images in order to scare the pants off people but rather to assure his listeners that the healing of the world is at hand, and that they need to stay awake, stay alert, and learn to read the signs of what is ahead. He is calling them not to crumble or quail when intimations of the end come but instead to "stand up and raise your heads, because your redemption is drawing near."
Jesus urges his hearers -- and us -- toward practices that help them stay grounded and centered in their daily lives so that they won't be caught unawares in the days to come. This is the message that the lectionary gives us each year as we enter into Advent. Again and again, we are called to circle back around the apocalypse, to revisit its landscape, to take in its terrain. With its annual return, and its repetitive challenge to us, this passage puts me in mind of an episode of Buffy the Vampire Slayer. Preparing to save the world yet again, a weary Buffy has this exchange with Giles, her Watcher:
11/25/2009 5:00:00 AM