By Elizabeth Weller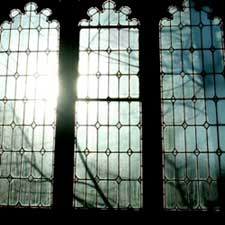 We are wandering homeless and in exile, longing always to return to the space where distance did not yet count. Sacred ritual and tradition survive as powerful reminders of who we are in relation to each other, to the earth, and to God. The Christian liturgical year -- the annual calendar of the holy days, seasons, stories, prayers and rituals of the faith -- is designed to re-root us in the very ground of our being. Peeling back layers that divide and separate, we are asked to remember what is most sacred and to return to the origin of being over and over and over again.
Steeped in the sacred traditions of the Old and New Testaments, the Christian liturgical year helps us to connect with and to reincorporate traditions of the past into the present. As these traditions and stories become embedded in our personal narratives and inform our life experience, they connect us with people of faith all over the world. This sacred Wisdom, passed from one generation to the next, creates a common thread, binding us to our ancestors and binding our descendants to us.
Beginning with the season of Advent, the liturgical year immediately challenges us to turn inward ("en-stasy") and to sit with the tensions between the first thing and that which has never occurred before, between the past and the 'not yet,' between the absence and presence of God. Purposely vague, the Christian lectionary (collection of biblical texts) invites us to hold these tensions side by side in a way that is no longer contradictory. In a culture designed to quench, to fill, and to satisfy, as we begin to follow the traditions of the liturgical year, many of us have to relearn what it means to be hungry. Then, as pilgrims following in the footsteps of Christ, we journey inward, entering spaces that are alien and unknown, spaces we all somehow remember by heart.
As we approach the season of Advent (Advent Sunday being the first day of the liturgical year in the Western church), it is important to recognize it as both a time of exile and the beginning of a new time. Advent is a passage from death to life. Like Lent, Advent is designed to guide us into the depths of our sorrows and longing, through our grief and our suffering and out of ourselves, once again returned to what is original. Another passage from death to life is the Easter Vigil rite. Originally the core of the liturgical year, it marks the transition from Lent to Eastertide. Similarly, the times of prayer carved into daily life, mirroring the sacred times and cycles of the year, remind us of our mortality and help us to remember the beginning of things.
With the support of these temporal and spatial structures, the realities most central to the church -- manifestation, resurrection, and the indwelling spirit -- are manifest. Prayer cycles and sacred space help to extend prayer into all parts of the practitioner's life. Liturgical practice reminds us to stop and focus my attention, similar to how Zen meditation invites one to pause to focus on the breath. We are always breathing, but in drawing our attention to the breath, we breathe more deeply.
The wisdom handed from one generation to the next teaches us to see Divine Order in the rhythms of daily life and in the cycles of our lives. Liturgical practice is sustained by these cycles of worship, repeating day after day, week after week, season after season. There are endless opportunities to move through these cycles, learning each time what it means to die, to be born and to live again, our experience so beautifully human it bends our hearts wide, and gradually breaks them (ever so gently) open.
Elizabeth O. Weller studied religion and philosophy at Sarah Lawrence College. After spending several years in the field of social work (apprenticing with small organic farms in her spare time), she pursued her Masters in Theological Studies at Harvard Divinity School. Graduating this past May, she and her husband moved to a small town just outside of Gettysburg, PA where Elizabeth hopes to start an agriculturally based healing center for individuals working through trauma and loss. You can read more about her work at http://www.thisamazingheart.com. Or, for her love of photography, go to http://mindwhisperingsphotography.blogspot.com/.
11/18/2009 5:00:00 AM