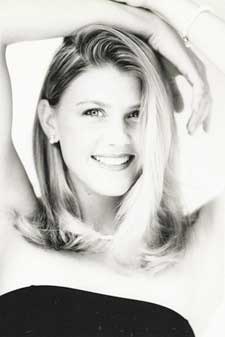 Editor's Note: Of all the stories of gymnastics and faith we have heard (and begun to document at our feature on Gymnastics, Faith and Olympic Glory), Sally Ward's is certainly among the most interesting, since her faith required her to walk away from her Olympic dreams.
Sally was first taken to gymnastics classes at the age of 4, after her parents saw her flipping and cartwheeling around the house. Her parents soon withdrew her from her gym and brought her back four years later. Sally went on to become the top-ranked rhythmic gymnast in the country, but she walked away from an all-but-assured position on the 1996 Olympic Team when she heard a calling from God in a hotel in Paris.
Timothy Dalrymple spoke with her by phone.
Your star rose quickly in the world of rhythmic gymnastics when you were a young teenager. Did you excel right from the beginning? How did God factor into your career?
Actually, I wasn't good at rhythmic gymnastics at first. In my first competition, I bawled my eyes out. I loved training, but I was shy and insecure and did not want to compete in front of the crowd. So I cried the whole time. At my first national championships, when I was 11 years old, I came in forty-third out of four-four gymnasts.
I began as a terrible rhythmic gymnast. Then I committed my gymnastics career to God. My dad had led me to Jesus when I was four years old, sitting on his lap on a rocking chair. But I was twelve years old when I really began growing in God and depending on Him. I committed to doing gymnastics as a form of worship to God. I didn't want to quit. I just wanted to do my gymnastics unto the Lord.
The next year, when I was 12, I placed fifth at the national championships and earned a spot on the national team. Then six months later, when the members of the national team competed for a re-ranking and for assignments to international competitions, I got first.
I went from forty-third place to first place in the span of 18 months. God had everything to do with that. As I committed my life and my career to Him, God became my helper. The woman who trained me brought in another coach from Bulgaria, and that too was God's doing. God brought together the team of coaches that I needed.
So yes, I definitely see God's hand in bringing me to the sport and bringing me through it. It's all used for Him. It's not like there was gymnastics and then my relationship with God was something different on the side. God is my life and he was using the sport for Him. It's a blessing to me to be a part of it, but it's all about Him.
You've become well known for the way in which you left gymnastics. Just to get the whole story in place before we discuss other things, please tell us how you discerned that it was time for you to leave.
I was on a world tour with the national team, and my teammates and I were all headed to the Olympics. That was our goal, our focus. Right before the World Championships, I woke up on October the 9th in a hotel room in Paris. I sat up in my bed, and the words of the Holy Spirit arose in my heart: It's time to go home.
In regular circumstances, the Holy Spirit does not speak to me audibly, but I knew I had just heard from the Lord. Those words were so clear and real to me that I had no question what had just happened.
I had not been thinking about retiring. My goal was the Olympics, and I was headed that direction-but I woke up in Paris and God told me to leave.
I was shocked. The World Championships was going to begin in a few days, and God was telling me to retire. It was not what I had been expecting, and yet I had total peace that it was what I should do. My heart accepted what my mind could not understand, and God graced me to do what He asked.
At the time, I could hardly even function physically. I had been away from home for months; I was underweight; we were all injured and working very hard. My teammate was having acupuncture in the hotel room and I was getting shots in my knee. Everything around me was chaotic and unhealthy.
I felt in my heart that I should finish the tour. I knew God was telling me to do that. So I competed that week and did my best. After the tour ended, my coach chose three of us to train with the French national team and prepare routines for the Olympics. We were not yet officially members of the Olympic team, but the intention was to prepare us for that, and all of the other girls on that tour did go on to make the Olympic team.
11/18/2009 5:00:00 AM