By Timothy Dalrymple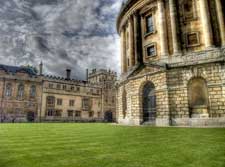 The roots of Patheos reach deeply into academia's fertile soil. Many on the Patheos team, and many who counsel and contribute to Patheos, share a concern for how the university shapes the life of faith for individuals and for society as a whole. The college years, at least for a high percentage of students, are a period of intense self-examination and self-formation. The proliferation of campus fellowships in the latter half of the twentieth century can be seen both as a response to academia's increasing secularity and as testimony to the reality that faith is often won, lost, or radically transformed in those critical years when the young man or woman leaves the shelter of home and explores and assumes responsibility for what he or she will do and believe in life.
In other words, the college years are profoundly "existential." At college, at least for a little while, we become who we are and who we will be as adults. We find ourselves, our convictions, our sources, our horizons. And there is reason for persons of faith to be concerned. As explained in one of our articles -- Will College Make You an Atheist? -- many young Christian men and women are "finding" themselves and their convictions outside of faith.
Thus Patheos began a discussion on faith on campus. This took place first in a Public Square discussion that draws on the perspectives of people of all faiths. There one finds a Muslim reflection on the pleasures of learning, a First Amendment guide to what is and is not permitted in public classrooms, and Mormon and Jewish accounts of religious transformation at college.
The Evangelical Portal simultaneously began a more extended discussion, still ongoing, on "The Life and Death of Faith on Campus." This includes multiple articles from Evangelical contributors, but also draws together other Christian articles from the Public Square discussion. The questions we are asking are these:
In coming weeks we will have more articles still, including pieces from Andy Crouch, author of the acclaimed Culture-Making, and Kelly Monroe Kullberg, editor of Finding God at Harvard and founder of the Veritas Forum.
If you have a testimony or an article you would like to add to the discussion, please email me at tdalrymple@patheos.com, or come share your stories and perspectives in our Discussion Forum.
11/23/2009 5:00:00 AM