So you were fulfilling a lifelong dream of going to the Olympic Games - and doing so in Atlanta, before a home crowd. Can you describe what that felt like? Did you participate in the opening ceremonies?
Since we competed two days later, our coaches kept us isolated-but I wanted so deeply to go to the opening ceremonies. I longed to be there with the other athletes. They were kicking off the Olympic Games in our country, and there's so much emotional momentum that you feel there. The opening ceremonies mark a special part of the Olympic Games for an athlete, and the coaches and federation should try to allow the athletes an equal opportunity to attend the event. I know I would have loved to have been there.
On the night of the opening ceremonies, the coaches had set a time when our lights had to be off, since we had morning training the following day. So I pretended that I had fallen asleep with the TV on, so that I could peek through one eye and watch the opening ceremonies. Then I saw Bela's feet beneath the doorway as he came to make sure I had gone to sleep. He knocked lightly and didn't hear anything, so he came in and I pretended I had fallen asleep with the television on. He peered over my bed and walked out. It was really strange, but that's my memory of the opening ceremonies.
However, although I was saddened to miss the opening ceremonies, I understood we had to rest for the competition two days later. And although I didn't get to experience the Olympic village or interacting with athletes from other sports in the cafeterias, I gained other experiences that I will treasure for the rest of my life, experiences that are extraordinary especially for a 14-year-old. I gained a bond with my teammates that will last a lifetime, and a record that my team accomplished that will be in the history books forever. That's extremely meaningful to me.
You were a member of the "Magnificent Seven" team that won the gold medal. Sometimes we see gymnastics teams, especially the women's teams, praying in the midst of competition. Did you pray together as a team?
Amanda Borden was our team captain and I knew that she had a strong faith. We would get together before the competition sometimes and she would say a little prayer and wish everyone luck. That was really nice. But actually during the competition, everyone was in their own zone and did whatever they needed to get them through.
Internally, I was constantly praying, because my warm-ups had not gone well. There's so much pressure, so before every routine I turned away and closed my eyes and went through my routine and asked the Lord to be with me and help me perform my best. Thankfully I did the best routines of my life on bars, beam and floor. I was very pleased with those events.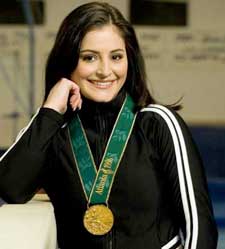 The final event in the team competition was the vault. How did you feel when you finished the event and learned that you had won the gold medal as a team?
To tell you the truth, I had mixed emotions. Of course, I had accomplished a lifelong goal. We were the first United States women's team to win the Olympic gold, and we're still the only US team to have done so. It was a major breakthrough for us, and we did it in front of 33,000 people chanting USA, USA in the Georgia Dome. The feeling, the tingling sensation throughout the body, was extraordinary.
In that sense, it was perfect, and there was extreme happiness. But there was also extreme sadness.
I had fallen on the vault. I was proud that I had done the three best routines of my life on the other events, but I was disappointed in myself for letting people down. I kept questioning why that had happened. I didn't realize this at the time, but they didn't need my score anymore. Even with my score, we would have won, which made me feel so much better when I found out. But at the time I was deeply disappointed in my last performance.
Jaycie Phelps, one of my teammates, pulled me aside when we were waiting in the back to march out to the podium to receive our medals. She asked me, "What are you crying for?" We had just achieved our lifelong goals, yet I was completely demoralized, completely disappointed in myself for that one error on the last event. You would think, when you have just won the gold, one single mistake wouldn't matter. But that's how much pressure I had on myself, the pressure to be perfect. It came from all different areas-from my coaches, from myself, from my father.
11/5/2009 5:00:00 AM