By Mark D. Roberts
TheHighCalling.org
He causes us to remember his wonderful works.
How gracious and merciful is our LORD! (Psalm 111:4)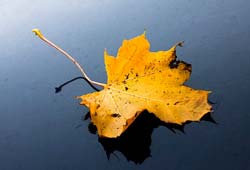 When I actually take time to think about God's grace in my life, when I actually remember the ways he has saved, healed, and transformed me, then gratitude flows quite easily. For me the formula is simple: Time + Remembering = Gratitude.

If I'm going to have adequate time for thanking God, I need to put it in my calendar. For me, this means intentionally setting aside at least one hour for prayer of gratitude. Usually I do this on the Wednesday before Thanksgiving because the holiday is often quite full for me. My tradition is to get to a place of quiet and solitude where I can spend at least sixty minutes in prayer.

Once I am able to pause, take a deep breath, and begin my time of giving thanks, I ask the Lord to guide me. At the top of my list are many obvious gifts: my family, my work, my home, my church, my health, and, of course, my relationship with God through Christ. Over the years, I have found that if I set aside adequate time for gratitude, and if I am quiet enough to let the Lord whisper in my heart, I will often remember things for which I have either never felt grateful or never expressed gratitude to God before. I am always amazed by the way God helps me to remember his good gifts, even and especially the ones I have previously taken for granted.

Psalm 111:4 celebrates the fact that the Lord "causes us to remember his wonderful works." How does this happen? Partly, it comes when we quiet our hearts and open them to his Spirit. Sometimes remembrance bubbles up as if out of nowhere. Often it is ignited in corporate worship, as someone gives a word of witness or as a hymn expands our consciousness.
In this season of thanksgiving, may I encourage you to set aside time for remembrance. Allow the Lord to bring to mind his manifold gifts to you. True thanksgiving will follow.
Questions for Reflection:
What helps you to remember God's gifts in your life? Will you be able to set aside intentional time for thanksgiving either today or tomorrow?
Prayer:
O Lord, how good you are to me! Not only do you pour out blessings in my life, but also you help me to remember them. Thank you for the nudging of your Spirit so that I might be filled with gratitude. Indeed, Lord, I invite you once again to remind me of your goodness. Help me to remember things I have forgotten. Help me to see my life from a fresh perspective, so that I might be thankful in new ways.
Most of all, help me to remember anew the gift of salvation through Christ.
Amen.
Mark D. Roberts, as Senior Director and Scholar-in-Residence for Laity Lodge, is an advisor and frequent contributor to TheHighCalling.org. A Presbyterian pastor, Mark earned his Ph.D. in New Testament from Harvard University. He has written six books, including No Holds Barred: Wrestling with God in Prayer (WaterBrook, 2005). He blogs daily at www.markdroberts.com, and the meditations he writes for The High Calling are featured at the Evangelical Portal every Thursday.
11/25/2009 5:00:00 AM