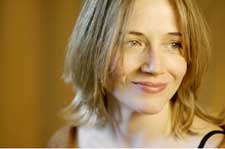 Friends and fans of Anne Marie David often use the same word to describe both her and her music: angelic. A graduate of Berklee College of Music, Anne Marie is the composer of multiple piano scores for religious presses including Augsburg Fortress Publishers and Abingdon Press. Her broad ministry of liturgical music includes directing and teaching, as well as serving on the faculty of the Boston College School of Theology's Summer Institute.
The radiant purity of her voice and piano arrangements raises her newest album Turning Home to new heights. The album includes a mix of original songs, including the inspirational piano instrumentals she is renowned for. Four songs feature her soaring soprano. "Home to Stay," "Child's Simple Praise," "Skating at Twilight," and "Missing You" were written with long-time collaborator Sara Hunter.
Listen to "Child's Simple Praise" here:
Listen to an another composition at the end of the article.
These songs bring to light the joys of childhood as well as the heartbreak of transitions. Says Anne Marie, "It is about the spiritual journey of building home in our hearts."
The title track of Turning Home was conceived as a prayer for all those serving in harm's way. The melody of "My Country 'Tis of Thee" is gently woven throughout. Anne Marie describes it as her "prayer for all mankind to turn toward better answers than warfare to solve our problems." She explains, "The more convinced we are of God's love for every person on earth, the sooner we will find our way back home, both literally and spiritually."
Home is a topic dear to Anne Marie's heart. One of ten children, raised on a farm in rural Minnesota, she was forced to reinvent her sense of home when transplanted to Boston to pursue her musical career. Her song "Home to Stay" references this period of transition as she sings, "New starts can break my heart." Written for her late father, Notre Dame football star, Richard Cotter, the song depicts the importance of home and family.
"Skating at Twilight" shares a parallel message in a touching waltz composed with co-writers Sally King and Sara Hunter. Under the skilled supervision of world-renowned producer, Bill Elliott, who has worked with artists as diverse as Bonnie Raitt, Smokey Robinson, Stevie Nicks, Michael Feinstein, and John Lithgow, Anne Marie's compositions soar. Backed by a talented acoustic trio that includes Duke Levine (Aimee Mann), Kevin Barry (Paula Cole), and Mike Rivard (Shawn Colvin), her vocal and piano arrangements have been transformed into tightly crafted works of art.
With Turning Home, Anne Marie hopes to expand her platform of religious music to embrace an even broader audience of all who hold home and family sacred. Patheos caught up with her on the eve of the album's release.
So how excited are you to release your fifth studio recording?
I'm thrilled. Each album is a labor of love and this one is no exception. Because of Bill's veteran producing skills, I had the luxury of focusing all my attention on making music rather than worrying about the technical aspects of capturing the performance. After previous solo albums, the chance to play in the studio with this trio as well as violinist Melissa Bull and flutist Dominic Trumfio was a dream come true.
How autobiographical is the album?
11/20/2009 5:00:00 AM