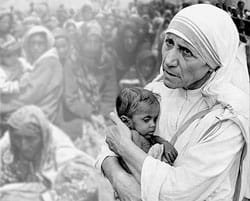 Mary Poplin, a teacher all her life, followed the leading of her newfound faith to the streets of Calcutta and the work of Mother Teresa's Missionaries of Charity. She spent two months observing Mother Teresa's life and work and participating in the community and its ministry. Her experiences left a deep and indelible impression upon her. Even as she went on to become a professor and Dean, she knew that there was much she learned on the streets of Calcutta that she could not learn in the hallowed halls of academia.
This video is also available at the website of the Veritas Forum. It is republished with permission. The Veritas Forum hosts university events that engage students and faculty in discussions about life's hardest questions and the relevance of Jesus Christ to all of life.
Mary Poplin earned her Ph.D. in Education from the University of Texas, and became a professor at Claremont Graduate University in California, where she was Dean of the School of Educational Studies from 2000 to 2004. She has also worked with Mother Teresa and the Missionaries of Charity in Calcutta, and hosted a conference on Accountability and Social Justice. She recently wroteFinding Calcutta: What Mother Teresa Taught Me about Meaningful Work and Service.
This appears as a part of the consultation on "The Life and Death of Faith on Campus."
11/25/2009 5:00:00 AM