By Mark D. Roberts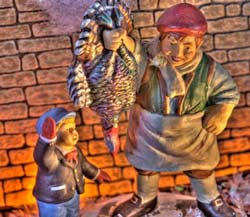 In Part Two of this series, I began to explain the impact of Charles Dickens, especially through A Christmas Carol, upon our celebrations of Christmas. In fact, it's not too much of an exaggeration to describe him, in the words of the London Sunday Telegraph, as "the man who invented Christmas."
Dickens's influence upon our Christmas traditions is keenly felt today when it comes to charitable giving. In this season I will receive at least a couple dozen requests to donate money to worthy causes. Moreover, I will make one of these requests on behalf of my church, which depends on an exceedingly strong December to finish the year in the black. To be sure, Dickens didn't invent the notion that giving befits the Christmas season. One could track this idea back to the Magi in the Christmas story, if not to God's gift of His own Son. But seeing Christmas as a special time for donating money to charity, especially to the poor, is a perspective Dickens popularized.
The tone of seasonal charity is struck early and often in A Christmas Carol. Early in the first Stave (chapter), Ebenezer Scrooge receives an unwelcome Christmas Eve visit from his nephew. When his Uncle Scrooge questions the value of Christmas, Fred responds:
But I am sure I have always thought of Christmas time, when it has come round -- apart from the veneration due to its sacred name and origin, if anything belonging to it can be apart from that -- as a good time; a kind, forgiving, charitable, pleasant time; the only time I know of, in the long calendar of the year, when men and women seem by one consent to open their shut-up hearts freely, and to think of people below them as if they really were fellow-passengers to the grave, and not another race of creatures bound on other journeys. And therefore, uncle, though it has never put a scrap of gold or silver in my pocket, I believe that it has done me good, and will do me good; and I say, God bless it!
Even apart from its religious significance, Fred sees Christmas as worthwhile because it is a time of unusual generosity. Of course Scrooge doesn't buy into this one bit.
But some ghostly interference in Scrooge's life changes his opinion on the matter of his business, especially at Christmastime. When visited by the ghost of his former partner, Jacob Marley, Scrooge attempts to compliment him by saying, "But you were always a good man of business," to which the ghost responds:
"Business!" cried the Ghost, wringing its hands again. "Mankind was my business. The common welfare was my business; charity, mercy, forbearance, and benevolence, were, all, my business. The dealings of my trade were but a drop of water in the comprehensive ocean of my business!"
Then Marley's ghost adds an extra note about Christmas:
"At this time of the rolling year," the spectre said, "I suffer most. Why did I walk through crowds of fellow-beings with my eyes turned down, and never raise them to that blessed Star which led the Wise Men to a poor abode? Were there no poor homes to which its light would have conducted me?"
Notice that if Jacob Marley had imitated the Wise Men, he wouldn't have been led to worship the Christ child, but rather to be generous to the poor. This, rather than the religious meaning of Christmas, is central to Dickens's vision of the holiday.
As Marley and his coterie of ghosts visit Scrooge, his heart softens toward all people, especially the poor. Thus when his transformation is complete in Stave 5, the very first thing Scrooge does is to purchase a giant turkey for the family of his poor clerk, Bob Cratchit. Then, as he is walking about on Christmas morning, he runs into the same portly gentlemen who had the unfortunate experience of meeting Scrooge the previous day. Yet, now, things are quite different. Scrooge approaches them, offers them Christmas greetings, and then whispers something in the ear of one of the men. Here's the following dialogue:
"Lord bless me!" cried the gentleman, as if his breath were taken away. "My dear Mr. Scrooge, are you serious?"
"If you please," said Scrooge . "Not a farthing less. A great many back-payments are included in it, I assure you. Will you do me that favour?"
"My dear sir," said the other, shaking hands with him. "I don't know what to say to such munificence."
11/30/2009 5:00:00 AM