By Galen C. Dalrymple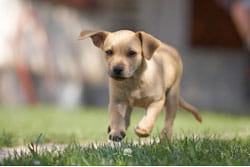 My boxer Ramses the Great, Lord of the Nile, knew how to celebrate. When I strode through the door at the end of the day, Ramses set aside the dignity of his royal status to illustrate the meaning of the word joy. He whined and snorted, leapt and twisted, sometimes launching himself three feet in the air and turning a full 360 degrees. Since boxers usually have their tails bobbed, and cannot really waggle their tails, instead they wag the back halves of their bodies. They turn into these furry wriggling curlicues that just may be the most perfect -- and the most hilarious -- demonstration of joy in all of God's animal creation.
Ramses simply cannot wait to see me. He revels in my presence. He makes me feel loved and wanted. He makes me happy to be home. So, naturally, what do I do? I celebrate with him. His joy is infectious. I have often wondered how long it must seem like to a dog who must wait all day to see the master again.
How do I feel about seeing my Master? How often would I rather not see Him because of something I know I have done wrong? Would I celebrate if the true Master strode through the door this very moment? Would I be as ecstatic to see Him as my dog is to see me? Well, perhaps I should ask: am I that excited about going to worship God and be with Him?
1 Peter 1:8-9 reads, "Though you have not seen him, you love him; and even though you do not see him now, you believe in him and are filled with an inexpressible and glorious joy, for you are receiving the goal of your faith, the salvation of your souls."
The passage refers to an inexpressible and glorious joy that comes from receiving our salvation from God, and from the knowledge that what we are receiving now will be made complete in eternity. Do you remember, when you were courting your spouse, how long it sometimes felt before you could see your beloved again? How the hours seemed to take forever to pass, and how your heart leapt when you saw the object of your affection?
God longs to take us away to be with Him forever. If we do not long to see Him again, if we are not eager to see Him return right away, then we should confess this and consider why it is so. The day is coming when the long wait to see Christ will be over. The Master will reappear, and when He reappears He will never leave us again. Heaven is described as a joyous wedding feast -- for when the Master returns to take us home, those who are ready will leap and dance for joy.
Further installments in the "Lessons My Dog Taught Me" series will appear each Monday at the Evangelical Portal.
Galen Dalrymple pastors Vineyard Hills Christian Church, a non-denominational Evangelical church in the wine country of California. His daily meditations, Daybreaks, are received by readers all over the country.
11/11/2009 5:00:00 AM