By Warner Woodworth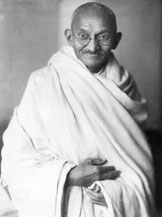 Ever dream of combating poverty head-on? Feel powerless to reduce human suffering? Want to make a difference in the world? Then this article is for you. The central thesis comes from the great Mahatma Gandhi who envisioned each of us as the solution to global suffering: "You must be the change you wish to see in the world." My interest is not so much to articulate or debate the theological foundations of Mormonism today, but to share examples of praxis, i.e., applications of LDS doctrine in the real world that build socio-economic justice. I hope these illustrations may inspire readers to become "doers of the word," not just hearers. Maybe they will serve as images of potentiality, inspiring others to design new interventions for bettering the world.
As I put the finishing touches on these pages, the year is almost over. However, I have had some remarkable encounters with individuals over the past two months who have sought to actively engage their beliefs in new and creative activities that may evolve into life-long traditions. Dozens of LDS families have contacted me to say they decided to forgo Christmas gifts for each other, which they had done in the past, and instead, pool the monies they would have spent to fund one of our village banks in Latin America. Theirs is a gift that will keep on giving because when the first 15-20 loans are paid back with interest, another round of loans can be distributed to start another cluster of poor women. Some innovative neighbors this year collected micro-banking funds as private citizens who just happen to belong to the same Relief Society up on the Provo bench. Another is a clan-like structure of individuals from both Salt Lake and Utah counties that calls itself the "One Heart/One Mind Action Group." They too have raised funds for microfinance for the first time this year.
Yet another group committed two weeks ago to fund the $150 purchase of an Alpaca for an orphanage high in the Peruvian Andes where dozens of indigenous children are in need. By breeding several new Alpacas, a small herd will eventually grow, providing milk and meat for consumption, along with the shearing of wool to be sold in the market for a good return as craftswomen then produce sweaters, scarves, and so on. Some could give generously, others as young couples still getting careers started could only give $20. One young man in the family who suffered unemployment and health problems through most of 2006 donated the entire $50 his parents gave him for Christmas to help buy a second Alpaca.
Approaching midnight at this moment, it is the wrapping up time of a number of marriages my students invited my wife, Kaye, and me to attend this month - temple sealing ceremonies, wedding receptions, costume balls, and so on. I've been so impressed with their desires to reform the traditional U.S. marriage industry. New, innovative and Zion-like experiences have emerged from their creativity and commitment to doing good. In one case, the card at the marriage banquet informed us that in lieu of a traditional favor for each guest, the bride and groom "have made a contribution on your behalf to Save Darfur." The couple also plans to dedicate a month next summer doing village development in Africa. Different newlyweds, also married today, had contacted me weeks ago for advice on where they could serve an impoverished community as volunteers next semester for four months, rather than go on a 10-day honeymoon of luxury in the Caribbean, which would cost about as much.
Tonight, at the last wedding of the year we attended, still another couple sought our input in finding them internships in India where they hope to combat poverty for a six-month period. In their announcement in the mail, the only wedding gift they had asked for was a donation to the Provo Food and Care Coalition, or travel money to get them to Bangalore, India. In yet another case, some young friends in New York emailed me asking what NGO I would recommend to which they could contribute. They had prayerfully decided that rather than purchase a $5,000 diamond ring, they would give that amount to help reduce human suffering in the Third World.
These Latter-day Saints are acutely aware of war, poverty, and hunger. More importantly, they understand that they can "be the change" for which Gandhi called.
As a professor to many such individuals, I've been blessed to stand on hallowed ground in a classroom, instructing them, and more importantly, learning from their insights. Together we have focused on key theories and paradigms for understanding global problems. Debates have arisen about conceptual frameworks for changing society. Jointly we have developed cutting-edge methods and tools for building family and community self-reliance in Africa, Asia, and Latin America. Innovative, radical strategies for alleviating poverty have been explored: microcredit, literacy, fair trade, women's empowerment, participatory research, worker-owned cooperatives, sustainability, humanitarian interventions, and the socio-economics of Zion.
12/22/2009 5:00:00 AM