Patheos Staff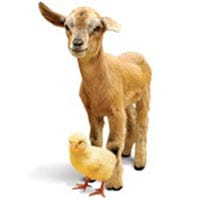 Chickens, goats, and cows, oh my! Give a gift that can change a child's life in the name of someone you love. Visit the World Vision Gift Catalog to see more than 100 unique gifts to help poor children and families.

Add to a crèche collection -- or begin one -- with thiscolorful handmade nativity scene of striking beauty and quality from Creator Mundi.

Dress up your Bible with a stylish embossed LuxLeather Bible cover from Christianbooks.com.

Recycled Metal Angel Candle Holder is made from a recycled oil drum by artisans in Haiti. From SERVV, a non-profit seeking to eradicate poverty by supporting artisans and farmers worldwide.

Art prints from Jan Richardson: a spirited and often whimsical collection of original color and charcoal prints sure to enhance a prayer space, office, or meeting room.

Wear your faith on your wrist with Scripture Jewelryfrom Christian Gifts Place.

An outward symbol of an inner reality: The Serenity Cross -- with a tiny dove at its center symbolizing the inner peace brought by the Holy Spirit -- from jewelry maker James Avery.

Give the gift of hope with a t-shirt from Light Gives Heat -- 100% of profits go directly toward helping to create sustainable jobs and empower those living with AIDS in Uganda.

Warm up a loved one this Christmas with a cozy Nativity Quilted Throw from Christianbook.com.

"Come O Spirit!" Anthology of Hymn & Spiritual Songs features traditional hymns reinterpreted through lush, cinematic arrangements and a drop of Southern gothic mystique.
Check out the link below to buy from Amazon.com!

Sting's newest holiday album, If On a Winter's Night, features a collection of songs, carols, and lullabies spanning the centuries for an original acoustic meditation on winter.
Check out the link below to buy from Amazon.com!

And not just for kids -- Jesus from A to Z, a beautiful alphabet book with captivating stories and gorgeous oil paintings, by Kevin Graham with illustrations by Jennifer Yoswa.
Check out the link below to buy from Amazon.com!
12/15/2009 5:00:00 AM