An Interview of Tony Biaggne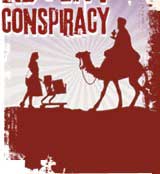 Christians around the world complain of how Christmas has been co-opted and consumerized, transformed from a sacred celebration of the birth of Jesus of Nazareth, the entrance of God into human flesh for the sake of our salvation, into a sordid and unseemly materialistic frenzy. The protest that Jesus is "the reason for the season" has become an annual ritual. Parents feel as though Christmas has somehow escaped their control, as though, despite their best intentions, the culture obligates them to buy more numerous and more expensive gifts each year.
Few, however, have radically transformed the way they celebrate Christmas, and few have sought to transform the culture of Christmas.
The Advent Conspiracy ministry did not so much inspire a movement as it tapped into the deep desires of millions of believers. The leaders of the ministry advocate a celebration of Christmas that is less centered on the enjoyment of materialistic goods and more on worship, relationships, and tending to the poor and the needy. The movement has spread from the Midwest to the posh shores of California to the destitute villages of Zambia. As their website declares, "Christmas can (still) change the world."
What better way to remember Jesus than through acts of worship and true self-giving?
Patheos interviewed Tony Biaggne, who is Creative Director at Windsor Crossing, one of the churches at the heart of the movement.
Why has Advent Conspiracy become such a phenomenon?
How can Christmas, as your website says, still change the world?
How should parents explain to children that the family will be focusing this Christmas on tending to those in need?
Advent Conspiracy has been a movement for several years now. What kind of 'success stories' do you hear? How are lives being changed?
Why do you call this an 'Advent' Conspiracy? In what way does God become present to us, in a new way, when we approach Christmas differently?
To learn more about the Advent Conspiracy movement, see their website. They have been profiled recently at Time and other magazines.
For more articles like this, visit the Evangelical Portal.
12/17/2009 5:00:00 AM