By Thomas Turner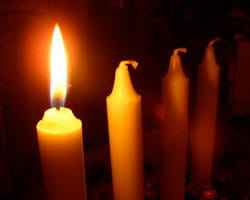 The word Advent means "coming" or "arrival." The focus of the entire season is the celebration of the birth of Jesus the Christ in his First Advent, and the anticipation of the return of Christ the King in his Second Advent. - Dennis Bratcher, "The Season of Advent: Anticipation and Hope"
Advent is the beginning of the New Year for the Christian calendar, and is the first major season in the seasons that tell the story of Christ from year to year as Advent, Christmas, Epiphany, Lent, Easter, and Pentecost.
Advent has four weeks, each moving closer to the first Advent of Christ, his birth, which is celebrated at Christmas. The four weeks are usually kept track of using an Advent wreath, which has four candles, one for each week, and a fifth central Christ candle that represents the light of Christ. The message of the Advent wreath is that week-by-week the light of Christ shines brighter until the week of Christmas when all five candles are lit.
Below are different ideas of how to make the season of Advent special for you, your family, and your church. Try one or try five; each presents an opportunity to focus on this season as a time of anticipation and hope.
Anticipation
Turn Off the Christmas Music. The point of Christmas music is to celebrate the coming of Christ. During Advent, the Church is anticipating the coming of Christ, so singing about his coming is jumping the gun a bit! Not listening to Christmas music is a way to focus on the anticipation of Christ's coming and helps us to not take for granted the blessing of Christ's incarnation. An album called Advent Songs is available from Noisetrade.com to help you find some Advent appropriate music.
Hold Off on the Decorations. Similar to Christmas music, decorating for Christmas during the Advent season does not allow us to fully anticipate Christmas Day. Make a new family tradition this year by decorating a little bit each week or by decorating everything on Christmas Eve or the last week of Advent (December 20th-24th).
Fasting. In America and much of the Western Church, Advent and Christmas are seasons of feasting. We joyously celebrate the season beginning with Thanksgiving feast and end with Christmas dinner with lots of parties and big meals in between. There are, however, some Christian denominations that fast instead of feast. They fast during the season of Advent so that they learn to anticipate the joy of Christmas (and all the food that goes with it) by abstaining from certain foods. We live in between the first Advent and second Advent of Christ, so we urge you to both feast and fast this Advent! Feast in the joy of Christ's coming, but also take some time this Advent season to fast in anticipation of Christ's second coming.
Advent Wreath/Calendar. Kimberlee Conway Ireton, author of The Circle of Seasons: Meeting God in the Church Year, suggests the following litany for families during Advent: "In our home, we begin our evening meal by lighting a candle and saying a short litany. For Advent we sing the first verse of 'O Come, O Come Emmanuel' when we light the candle."
Candles for an Advent wreath are sold in packs at your nearest Hallmark store, or you can buy five candles (three purple, one pink, and one white). You can use any wreath you would prefer. The Advent Wreath is a tangible way for your family to learn to celebrate Advent together.
Advent Calendars are also a great way for younger children (or adults!) to learn to anticipate Christmas. Advent Calendars can be found at most food stores or ordered online.
Hope
Shopping. While the world spends vast amounts of money on Christmas gifts and even goes into debt buying the latest toys and fashions, we as Christians find our hope not in gifts but in Christ's coming to earth. For more information on how stopping the Christmas splurge is the best way to celebrate Advent, go to AdventConspiracy.org.
We aren't saying don't buy any presents though. There are many ways to shop for Christmas presents that give hope to others. Shop for Christmas presents this year at TenThousandVillages.com for fair trade clothing, furniture, and items, or at InvisibleChildren.com and LightGivesHeat.org for fashionable clothing that supports important organizations in Uganda. For information on Christmas shopping read: http://julieclawson.com/2009/11/18/fair-trade-christmas/.
12/8/2009 5:00:00 AM