By Fr. Mike Boutin
But as for you, Bethlehem Ephrathah, too little to be among the clans of Judah, from you One will go forth for Me to be ruler in Israel. His goings forth are from long ago, from the days of eternity. (Micah 5:2)
Here's a youtube take on a living nativity. Quite inspiring!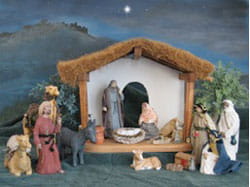 I'm a bit of a collector of crèches: that's the French word for nativity scenes. Crèches were first conceived by St. Francis of Assisi as a way of helping the people to understand the Good News of the birth of Jesus. The legend is that on Christmas Eve, 1223, in Greccio, Italy, St. Francis assembled the first living manger scene, with a real ox and ass to warm the Italian baby Jesus in the cold night.
I still have the first manger scene my parents bought nearly fifty years ago when we were just infants. I set it up every year, and somehow my dad, who has been dead for 35 years, is as present to me in those moments as when he would set it up each year under our Christmas tree, and hide the baby Jesus until Christmas Eve!
Since I travel a good deal, I've had the opportunity to collect crèches from many different countries and cultures: Africa (though I've not yet visited there, I've had friends give African crèches to me!), Europe, Mexico, Central America, Costa Rica, Canada, and of course, my favorite crèche of all, from a small company in Marblehead called Hestia Creations.
For nearly twenty years now, my mom and sister have given me at least one piece of this manger scene each year. Each year the artists create new pieces and retire others, and I'm very proud to say that I have the complete set! Each of the pieces comes with a story of why she or he is at the manger, like the elaborate presepios of Naples. And each year as I decorate for Christmas, setting up my nativity scene becomes for me a real moment of prayer. I imagine what the various characters are thinking and saying as they move toward Bethlehem... I wonder how long they have been waiting for the Messiah... What has them worried this year? Why are they weeping? Why rejoice? What's the story of their hearts?
Why is Talia bringing her frog to the manger? Why is Micah playing his drum? How long has Anna sat and waited for Emmanuel to come? Even the animals tell a story if I can be still enough to listen: the baby calf seems so content, while the elephant's strength and beauty is only rivaled by a tiny child in the manger who, for those with the eyes of faith, can be recognized as the Prince of Peace.
I spend several hours unwrapping and inspecting each piece to make sure they lived through another year in the basement, and then carefully and lovingly set them up in the living room of the rectory, using boxes and books and trees and velvet to create a mini-Bethlehem...and to pray again for the birth of the Savior in our world and especially in my heart...
And I reflect on the past year for me... What has me worried this year? Why am I weeping? Why do I rejoice? How long have I been waiting for Emmanuel to come? What is the story of my heart?
And what is the story of the hearts of those I love? Can I be still enough in these Advent days to listen to their story, and to announce to them the joy in waiting for the Son of Justice to come?
Now take out your own nativity scene, or look at the images I've suggested, and pray....
Father Mike Boutin is the co-pastor of the Church of the Blessed Sacrament, Walpole, MA, and travels widely, leading pilgrimages throughout the world to various Catholic religious sites. He is a frequent speaker on liturgy, music, spirituality, and pastoral ministry.
12/7/2009 5:00:00 AM