On Christmas day at noon, Benedict will read the traditional "Urbi et Orbi" (a Latin phrase indicating that he is addressing the City and the World). This annual message concerning the religious significance of Christmas and a reflection on wars and other current events will be read from the central balcony of the basilica. The message previews concerns Benedict will carry to the world during multiple trips scheduled in 2010. 

Outside of religious traditions, many stories, songs, and cultural traditions have been integrated into the season too, including the popular tale of moral guidance by Charles Dickens, A Christmas Carol. (Did you know that, after two years of research, Dickens wrote A Christmas Carol in a mere six weeks? The famous English author began writing in October of 1843 and finished in time for Christmas publication.)

Moral guidance remains a major theme at Christmas each year and organizations like the Salvation Army see donations rise significantly. This year, the Salvation Army increased its annual Kettle Campaign and Angel Tree program efforts.
Saturday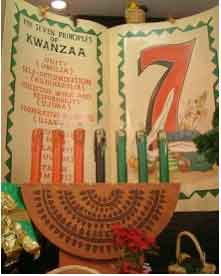 African Americans reconnect with African heritage during Kwanzaa. Celebrated from December 26 - January 1 each year, Kwanzaa originated in 1966 around the Black Nationalist movement of the 1960s. (Last year, the first and only feature film focused on Kwanzaa was released. The Black Candle, narrated by Maya Angelou, won Best Documentary at the African World Documentary Film Festival.) The 2009 theme of Kwanzaa is "Principles and Practices of Kwanzaa: Repairing and Renewing the World." (Find out more on the Official Kwanzaa Website.)

During Kwanzaa, African Americans light a kinara, or candle holder, enjoy feasts, and give gifts to one another.
Kwanzaa was created by Ron Karenga, who claimed that his goal was to "give Blacks an alternative to the existing holiday and give Blacks an opportunity to celebrate themselves and history, rather than simply imitate the practice of the dominant society." (Read more on The History Channel's website.)

Kwanzaa was originally intended as an alternative to Christmas, although today, Karenga says that Kwanzaa shouldn't act as an alternative for one's own religious holiday. In 1997, Karenga branched out even more by saying that people of any race can, and should, honor Kwanzaa, just as Americans mark Cinco de Mayo and the Chinese New Year. (Recipes, creative ideas, and further information are available at Kaboose.com.)

Each day of Kwanzaa is meant to honor one principle, and the seven principles of Kwanzaa are: Unity, self-determination, collective work and responsibility, cooperative economics, purpose, creativity, and faith. Traditionally, families decorate their homes with African art and cloth, while donning traditional African clothing and eating fresh fruits. No one knows exactly how many people celebrate Kwanzaa. While the National Research Foundation claimed, in 2004, that approximately 4.7 million Americans do so, Karenga claimed in 2006 that Kwanzaa has 28 million followers. Lee D. Baker insists that 12 million people honor Kwanzaa each year.
Also on Saturday
"Good King Wenceslas looked out" -- it's the Feast of Stephen! 
On December 26, Western Christians honor the first Christian martyr (Eastern Orthodox Christians remember St. Stephen on December 27). St. Stephen's name means "crown," as he was the first disciple of Jesus to have received the martyr's crown. His feast day is celebrated on the day after Christmas because of his significance as the first martyr. 

St. Stephen was a deacon in the early Christian Church -- one of seven ordained by the apostles to look after widows and the poor (Catholic Culture has more information). According to the book of Acts, St. Stephen had such an influence over those who heard him speak that his enemies plotted to kill him. St. Stephen's enemies persuaded men to lie about him, yet even upon his death by stoning, St. Stephen prayed to God that his enemies be forgiven (find out more at this Catholic site, Fish Eaters). It has become tradition that Christians pray for their enemies on December 26. 

12/21/2009 5:00:00 AM