This article is presented as a part of the series on Gymnastics, Faith and Olympic Glory.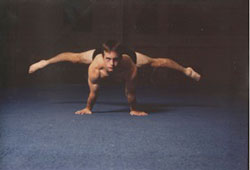 Some never reach the Promised Land. After leading the Hebrews out of enslavement in Egypt, Moses and his people wandered in the wilderness for forty years. Moses must have dreamt of the land God had promised them, "a good and spacious land, a land that flows with milk and honey" (Exodus 3:8). The dream and the promise must have sustained him in those long and strenuous years. Yet when the time came, Moses was forbidden to cross the Jordan River and enter the Promised Land. I imagine Moses climbing a lonely mountain and watching the people go before him into a land he had dreamt about, a land he would never enter, a land whose milk and honey he would never taste.
I knew that my gymnastics career was over -- and my own Olympic Promised Land forever out of reach -- when a team of men was screwing a "halo" into my skull and a neurosurgeon standing at the foot of my bed informed me that my neck was severely broken. An hour earlier I had walked into the hospital, every footfall sending long needles of pain up and down my spine, and asked for an x-ray. The radiologist gaped at what he saw: a part of a vertebra had slid forward to rest against the spinal cord, and fragments and chips were scattered inside my cervical spine like thorns in the grass.
After a fusion surgery, I attempted briefly to return to the sport, urged on by a coach who told me that "We all break bones now and then." Yet the pain grew excruciating, and it became clear that I would live the rest of my life with chronic pain. My career was over, my Olympic dreams finished. And my body was broken and could not be put back together.
Yet if an angel stood before me and gave me the opportunity to subtract from my life my gymnastics career and all its consequences, all the damage it has done to my body and all the pain that it causes even now as I write, I would not hesitate. I would say no.
* * * * * *
American culture is enthralled with success stories. The ideals are inscribed in the bedrock of our American consciousness: striving against impossible odds, overcoming apparently insurmountable obstacles, fighting and persevering upon the battlefield until all others have fallen and the victor alone stands unvanquished and unbowed, triumphant at last. Such images belong to our ethos and mythos; they animate our economy and inspire some of the most noble of human endeavors.
Every two years, when the Olympics are broadcast from their various locations around the world, our television screens throughout the United States are transformed for three weeks into glowing digital cataracts that pour forth stories of conquering and overcoming. Every athlete becomes a human interest story, every career a study in prevailing against the odds. And as the winners stand atop the podiums, as their flags are raised and their anthems played, the wonder in their eyes tells us that one of the world's rarest miracles has happened then and there: a lifelong dream has been fulfilled. For that person, that one person, a thousand stars have aligned.
Yet sometimes failure is as important as victory. For every athlete who prevails on the highest stage, many thousands fall short. Sometimes the difference between them is not a matter of talent or effort, but of the vagaries of time and circumstance.
Of the gymnasts my age who were generally regarded as the most talented, three were eliminated by spinal fractures and several more were undone by successions of lesser injuries. Most broke down on the road to Olympic glory -- and only one made the Olympics. Many who were less talented, but who survived the gauntlet of injuries and attrition, made the Olympic team instead. As it turns out, half of being successful in gymnastics is being healthy enough to show up.
I am one of the left behind, one of the damaged and defeated. I write this not to curry sympathy. Rather, I write it because I think it is important that a gymnast can fail in his ultimate goal, and leave the sport with a permanent injury, and nonetheless feel such gratitude that he would do it all over again in a heartbeat. I did not make the Olympics; I broke my neck.
Yet I see these things as the will of God, and the will of God is not without reason.
* * * * * *

I am often asked whether I regret my gymnastics career. Perhaps I should. Friends have said, "You must be angry with God." I never was. "Just wait," they warn, "you will be." Fourteen years have passed, and I am still waiting.
12/2/2009 5:00:00 AM