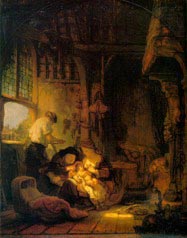 Next Sunday, December 27th, is the Feast of the Holy Family of Jesus, Mary, and Joseph.
The liturgical color for the season of Christmas is white or gold. The season of Christmas extends from Christmas Eve until the Feast of the Baptism of the Lord, this year, Sunday, January 10, 2010. The Gloria, which was sung by the angels at that first Christmas, should be sung at all Masses this weekend. A blessing of families could be included at some of the parish Masses, but making sure that the texts include all the various shapes and sizes that modern families come in. Announce the schedule of Masses for the holy day of Mary, Mother of God on January 1st.
Click here for next Sunday's readings.
Here are a few good sites for exegesis (an explanation of what the biblical texts are trying to say):
General Intercessions (Prayers of the Faithful):
The general intercessions at Mass should be written in the community that will pray them. Don't rely on canned prayers. Your community deserves someone who will pray about what this particular community's needs are this week, and then help them to articulate their needs and the needs of the larger community.
General intercessions should be just that: general enough that everyone can pray them. Prayers for the world, for the local community, for the sick, for peace, and for the dead should be numbered among the prayers you articulate. Adding a list of the local sick and deceased is a good way to make these prayers the prayers of this local community. Here are some general principles and a good example of general intercessions for next Sunday.
When I am preparing to preach, my process includes a number of pieces: 1) prayer with the scriptures 2) a weekly Bible study with parishioners on Tuesday morning that forces me to interact with the texts before Friday! 2) looking at a few different "homily helps" not in order to use a canned homily (honestly, I've never done that), but instead, sometimes to find a different angle, or a starter story, or some particularly useful insight.
The sources I use include:
General Liturgical Resources worth having on your shelf:
12/22/2009 5:00:00 AM