By Stephanie Fenton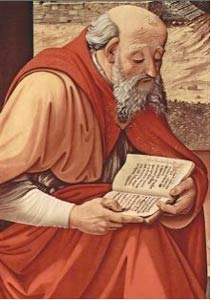 Start the Christmas season early by giving children small gifts and a history lesson -- in honor of the "real Santa Claus"! (Visit the colorful, information St. Nicholas Center for more details.) On December 6, both Eastern and Western Christians mark the Feast of Saint Nicholas. Well-known for his kindness and generosity, St. Nicholas was a 3rd-century bishop who lived in modern-day Turkey. This saint embodied many of the characteristics that define the cultural St. Nick, or "Santa Claus." (The St. Nicholas Center site has a fun section for kids.)
St. Nicholas was born in the village of Patara, an area that at the time was Greek. Having raised him as a Christian, Nicholas' parents died in an epidemic during his childhood. Nicholas remembered having been taught that Jesus told his followers to "sell what you own and give the money to the poor," so Nicholas used his inheritance to help the poor and sick. Nicholas then devoted his life to God. (Read an account of St. Nicholas' life at AmericanCatholic.org.)
Many tales surround the life of St. Nicholas, although there are few verifiable historical details. According to one story, Bishop Nicholas saved three children who had been murdered. After Nicholas prayed to God about these children, they were revived from death; thus, St. Nicholas became known as the patron of children. According to another story, St. Nicholas was returning from the Holy Land when a storm struck, and after his calm prayers, the storm stopped; thus, St. Nicholas became known as the patron of sailors and voyagers. St. Nicholas' work on behalf of the oppressed and downtrodden earned him a spot as the patron of many.
St. Nicholas' feast day is a popular day for celebration in Europe. In Germany and Poland, boys dress as bishops and beg for alms for the poor; in the Netherlands, candy and small gifts are given on the eve of this saint's day. (St. Nicholas Center has a nice review of world traditions for December 6th.)
This article was originally published at ReadTheSpirit.com and is reprinted with permission.
Stephanie Fenton is the Seasonal Correspondent for ReadTheSpirit.com.
12/1/2009 5:00:00 AM