By Nathan Schneider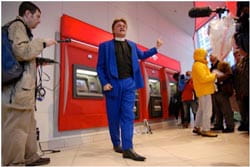 "How about a blessing?" says a woman, sitting on the steps of her house in the Windsor Terrace neighborhood of Brooklyn, "I need it." Reverend Billy never passes up the chance to talk with a neighbor.
The performance artist and anti-corporate activist is running for mayor of New York City on the Green Party ticket; the platform of his campaign, a plea for the sanctity of neighborhoods.
"Are you in trouble?" he asks.
"Yes I am," she replies, frankly. She looks it.
Billy is wearing his "costume," a white preacher's collar, black vest front, and bright blue suit. His hair, combed into a pompadour, is dyed blond with dark roots showing. The more she speaks, the more he drifts out of character, into an earnest gentleness. "I'm sorry. I'm your neighbor, I live down the street."
"Is there a church that goes with you?" she demands.
"I'm a church person."
Suspicious, she gives up and turns away without her blessing. "Nice speaking to you."
"You also," says Billy. Continuing on down the street, he whispers, "She's hurting." He glances upward. "Look at those clouds!"
Is Reverend Billy (aka William Talen) for real? As a man of God? As a politician? Or is he "only" a performer?
He's hardly the first public figure to ape religious faith for political ends. And he's not the first actor to run for high office in this country -- though Ronald Reagan left his costumes in Hollywood.
Running against Republican/Independent Mike Bloomberg and his daunting lead in the polls, even Democrat Bill Thompson's campaign seems little more than symbolic. Having fallen short of both the fundraising and polling quotas, election rules didn't allow Talen to participate in the first mayoral debate. (That didn't stop him from disturbing the event by shouting "Eight is enough!" at Bloomberg from the audience, referring to Bloomberg's successful campaign to extend the term limit of a New York City politician from two to three 4-year terms.) But for some who have long supported Reverend Billy's exorcisms of Starbucks cash registers and revival meetings in Wal-Mart parking lots, running for mayor is going too far.
"I've been really disappointed in how narrow people's picture of what politicians are," says Savitri Durkee, producer of the Church of Life After Shopping -- part theater troupe and part activist community. She is also Talen's wife, four months pregnant with their first child. Durkee speaks of "the tyranny of the practical": even their most radical friends ask, "But are you legitimate?" Amidst rising rents and sea levels she replies, "Is this whole situation legitimate?"
In the wake of George W. Bush's dangerous self-assurance, the rhetoric of "realism" has found renewed currency in American politics. Pundits were relieved to learn about Barack Obama's admiration for theologian and social critic Reinhold Niebuhr, an influential convert to Cold War realpolitik. Mike Bloomberg himself operates as an independent, having already broken with both major political parties in the past. Despite being the incumbent, he asks voters to "reject the culture of politics as usual" and choose the practical managerial savvy that made him the country's eighth-richest person.
"The fact of Bloomberg's money is actually the biggest advertisement of all," says Michael O'Neil, media coordinator of the rev's mayoral campaign. "It is a larger advertisement than what his money can actually buy in terms of advertising."
Talen points a finger at the city's development policies under Bloomberg, arguing that its support for big business and gentrification is ruining New York's real treasures, its neighborhoods. These policies are not inevitable good sense, Talen insists, but intrusions of corporate power. People's willingness to accept the status quo is a failure of imagination that he hopes to remedy.
For more than a decade, the Reverend Billy act has commandeered religious tropes to subvert the penetration of corporations into daily life. The ubiquity of consumer culture represents a cataclysmic "Shopocalypse." Mickey Mouse is the Antichrist. Such language has the imaginative scope to reach outside the here and now, while also the familiarity to make it feel like it might, in fact, be true.
"If Bloomberg wins in New York City, it is the triumph of corporate capitalism in New York City," says Durkee. But, with his collar on, Reverend Billy describes the mayor more bluntly: "We're going to cast out this devil, children!"
12/9/2009 5:00:00 AM