By Adam Walker Cleaveland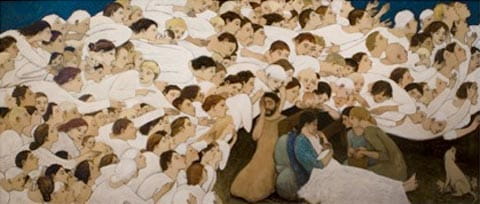 Last year around Christmas, I ran across this piece of artwork on Don Miller's blog. The piece of art is called "Nativity" and the artist is Brian Kershisnik. I think it is a simply brilliant piece -- there is so much I love about it. If you want to get two extremely detailed close-ups of this piece, check out this shot and this one.
First there is the expression on Joseph's face. Maybe he's exhausted... maybe he just doesn't quite know what to do next... or maybe he is so overwhelmed by the realization of what the birth of his baby boy might mean for the future of the world.
And then there is Mary -- simply caring for her newborn baby boy.
But the most amazing part of this image is the host of angels that are seen to the left, above and to the right of the new family. They obviously take up the majority of the canvas of this image, and their progression is worth noting. On the left, we see anticipation, joy, shock, awe, and wonder at what is happening. They are looking around, talking with one another, speaking and singing and praying in bewilderment. One possible interpretation is that these angels portray the anticipation and expectation that occurs during the season of Advent.
However, as they get closer to the Christ-child, they can't take their eyes off of him. They are wholly worshipping. This is the Christian church as we celebrate the birth of Christ on Christmas.
And yet -- the angels don't stay at the manger. They don't stay at the Nativity scene -- they take off. The movement in this image is both toward the baby boy, but then outward and beyond into the world. The angels do worship, but they continue moving on -- moving on to share the Good News of the birth, the Good News that has now come to the world. The coming of the Messiah. We see the angels lifting their heads and voices up to the heavens, proclaiming.
As followers in the way of Jesus during the Season of Advent, we wait... we wait in expectant hope. Then, we worship the newborn child. And finally we go out to proclaim.
This article originally appeared at Pomomusings and is reprinted with permission.
Adam Walker Cleaveland is a 29-year-old Minister for Youth & Young Adults, blogger, networker, designer, husband, and progressive Presbymergent.
12/15/2009 5:00:00 AM