By Fr. Mike Boutin
And Mary said:
"My soul glorifies the Lord
and my spirit rejoices in God my Savior,
for he has been mindful
of the humble state of his servant.
From now on all generations will call me blessed,
for the Mighty One has done great things for me-
holy is his name.
His mercy extends to those who fear him,
from generation to generation.
He has performed mighty deeds with his arm;
he has scattered those who are proud in their inmost thoughts.
He has brought down rulers from their thrones
but has lifted up the humble.
He has filled the hungry with good things
but has sent the rich away empty.
He has helped his servant Israel,
remembering to be merciful
to Abraham and his descendants forever,
even as he said to our fathers." (Luke 1:46-55)
Listen to this wonderful setting of Mary's Song of Praise, known as the Magnificat, in this stunning setting by John Rutter, and performed by the Cambridge Singers, under his direction. Since the music is there, sing along!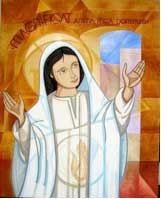 Let me introduce myself to you: my name is Miriam, but all my friends call me "Mary." I'm a teenager living in a little town called Nazareth. Life is boring around here, not much to do: all day long I work in the house with my Mom, while my Dad works in the market. Every day, he works so hard...he comes home so tired...and my mother tries to make life better for us, but we're just getting by...it's tough being poor, and now that the Romans have occupied these Jewish territories, it's even worse. They tax us and tax us again on the taxes....and the tax collectors make even more money on us...it's really impossible to survive...I know so many people who have simply picked up and moved away, in order to try to make a better life. But where? The Romans have taken over the whole world, I hear....
Last night, something incredible happened to me... I was sitting in my room, singing (it's my favorite thing to do when I'm alone!), when all of sudden, I had this feeling that something else was in my room... I don't know how to describe it: this "presence"... powerful, fearful, but also at the same time, so peaceful... and then, just when I thought I was having a dream, I heard this voice say "Hail, full of grace! The Lord is with you"... Now I know you're thinking I must be crazy, because honestly, I thought I was too... but the whole time, I felt such extraordinary peace... then my room was flooded with light... this dazzling, glorious white light... so bright... and I was caught up in the light, and my whole body was on fire, and I felt flooded with peace, and love, and emotions, and I was crying, and laughing, and then... then... I sensed inside me the heart of a mother... and I knew in an instant that a Child was growing in my womb... the Child the world had waited for... I was to be the mother of Redemption... the mother of the Prince of Peace... my womb would give birth to Life itself...
12/15/2009 5:00:00 AM