2 cups cranberry juice
2/3 cup white sugar
7 cups water
3 cinnamon sticks
1 tbsp. whole allspice
1 tbsp. whole cloves
1 (6 ounce) can frozen orange juice concentrate
2 (20 ounce) cans pineapple juice
6 fluid ounces frozen concentrated fruit punch
In a large pot over medium heat, combine the cranberry juice, sugar and water. Bring to a boil and stir until sugar is dissolved. Place the cinnamon, allspice, and clove into a cheesecloth bag and tie shut. Add to the liquid and simmer 20 minutes. Remove spice bag and add fruit juices. Serve hot.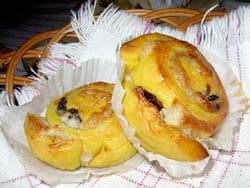 Lussekatter (St. Lucy Saffron buns)
4 cups white flour
2 cups milk
1 ½ to 2 oz. yeast
1 egg
½ tsp. ground saffron
10 tbsp. butter
1 cup sugar
Raisins for decoration
Melt butter in a pan and add the milk and the saffron. Dissolve yeast in warm water with a pinch of sugar and let it sit for about five minutes before adding it to the milk mixture. Pour liquid into mixing bowl and stir flour in slowly, until a loose, thick, smooth batter forms. Blend in the sugar, egg, and then more flour, a little at a time. Knead vigorously, adding flour as needed until the dough is smooth, thick, and shiny and doesn't stick to the bowl. Sprinkle top of dough with a little flour and place a dishcloth over the bowl and leave it in a warm place to let rise until double in size. Pour out onto counter and break off pieces of dough and roll with hands into 4-inch long and ½- inch wide "snakes." Coil each end in, making a figure "S". Place one "S" cross-wise on top of another and place on a greased baking sheet. Press a raisin into the centre of each spiral.
Cover and let buns rise until about double in size (until they feel spongy when pressed with finger). Gently brush a lightly beaten egg onto the buns and bake at 375°F. The buns should have a golden color and feel light when done. Remove and let cool.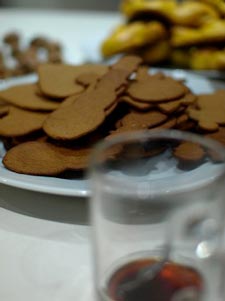 Pepparkakor (Swedish ginger thins)
2/3 cup brown sugar
2/3 cup molasses
1 teaspoon ginger
1 teaspoon cinnamon
1/2 teaspoon ground cloves
3/4 tablespoon baking soda
2/3 cup butter
1 egg
3 1/2 cups sifted all-purpose flour
Place butter in a large bowl. In a medium saucepan, heat brown sugar, molasses, and spices just to boiling point. Add baking soda and stir. Pour this mixture over the butter and stir until it melts. Beat egg and add to mixture; add flour, a cup at a time, and blend well. Turn out onto a floured countertop and knead 1-2 minutes. Wrap in waxed paper and chill until firm (about an hour). Preheat oven to 325°F. Roll out to approximately 1/8-inch thickness on a floured counter and cut into desired shapes. Place on greased baking sheets and bake for 8-10 minutes.
12/11/2009 5:00:00 AM