Fr. Mike Boutin
I have come that they may have life, and have it to the full. (John 10:10)
Thank you to YouTube for providing this gut-wrenchingly moving piece on the Haiti earthquake.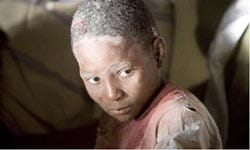 The pictures coming from Haiti are devastating. The injured and dead are everywhere. Dead bodies are barely covered by sheets as bloody people walk by and reporters attempt to convey the sense of absolute despair that reigns. Newscasts are difficult to sit through, as children and the elderly are screaming for help, while the walking injured fill our screens and our heads with the senselessness of it all.
Haiti was already the poorest nation in the Western Hemisphere. Now what? And for the believer, the question is haunting: where is God in all of this?
These are the times that try men's souls, indeed. Faith in these moments is the most difficult. Is God asleep at the wheel? How can the Divine Will allow such tragedy to God's beloved poor?
Then I am reminded of the greatest scandal of history: the Son of God naked and dead on a tree, taking upon Himself the sins of the world. I am reminded that One who was born into obscurity and poverty was rejected by the mighty and the powerful of this world, and was left alone to die an unspeakably horrific death. The One who preached about the Father's boundless love for us, the One who fed the hungry and opened the eyes of the blind, dead on a tree, and whose last words were a prayer for his persecutors: "Father, forgive them. They know not what they do."
Life is not fair. It was not fair for God's Son. Why then should we presume that for us and for Haiti life should suddenly be fair?
God is not asleep at the wheel... God grieves the tragedy in Haiti as much as we do... and waits for us to respond... In the face of this injustice and poverty and devastation and death itself, how do we respond?
St. Teresa of Avila reminds us that, "Christ has no eyes but ours. No feet but ours. No hands but ours." We are the body of Christ... and our Haitian sisters and brothers are crying out for us. God waits: how will we respond?
Now pray... and then, please, get off your knees and do something....
Father Mike Boutin is the co-pastor of the Church of the Blessed Sacrament, Walpole, MA, and travels widely, leading pilgrimages throughout the world to various Catholic religious sites. He is a frequent speaker on liturgy, music, spirituality, and pastoral ministry.
1/18/2010 5:00:00 AM