By Dr. Walter Kim

Acts 8:1-13:
And Saul was there, giving approval to [Stephen's] death.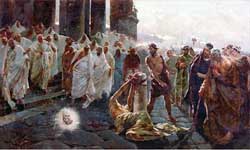 On that day a great persecution broke out against the church at Jerusalem, and all except the apostles were scattered throughout Judea and Samaria. Godly men buried Stephen and mourned deeply for him. But Saul began to destroy the church. Going from house to house, he dragged off men and women and put them in prison.
Those who had been scattered preached the word wherever they went. Philip went down to a city in Samaria and proclaimed the Christ there. When the crowds heard Philip and saw the miraculous signs he did, they all paid close attention to what he said. With shrieks, evil spirits came out of many, and many paralytics and cripples were healed. So there was great joy in that city.
Now for some time a man named Simon had practiced sorcery in the city and amazed all the people of Samaria. He boasted that he was someone great, and all the people, both high and low, gave him their attention and exclaimed, "This man is the divine power known as the Great Power." They followed him because he had amazed them for a long time with his magic. But when they believed Philip as he preached the good news of the kingdom of God and the name of Jesus Christ, they were baptized, both men and women. Simon himself believed and was baptized. And he followed Philip everywhere, astonished by the great signs and miracles he saw.
Purpose through Persecution (Acts 8:1-3)
We tend to think of difficulties in negative terms. Perplexing trials, disapproving peers, or challenging circumstances often provoke doubt and questions. Is God present? Does he care? Have we somehow missed his will? Yet, obstacles may be opportunities. At the beginning of Acts, the Lord Jesus commissions his disciples to be witnesses in Jerusalem, in all Judea and Samaria, and to the ends of the earth (1:8) and he promises the empowerment of the Holy Spirit to achieve that glorious purpose. However, it was the great persecution against the church in Jerusalem that actually got the church to spread (8:1b). Saul spearheaded a ferocious attack that sought the destruction of the church, not merely as an institution or building, but as specific people. Ironically, in God's sovereignty, the intention to destroy the church and to imprison her people led to the release of the gospel even more broadly. God achieved his purposes, not in spite of, but through persecution.
Wonders Big and Small
This passage from the eighth chapter of Acts also refers to outstanding miracles that even astonished Simon the Magician. The exorcism of spirits and the healing of paralytics resemble Jesus' miracles (cf. Luke 4:35, 5:24), and demonstrate that the gospel about Christ came with the power of Christ. In addition to these big miracles, there were also small wonders. First, note the simple but profound observation that "those who had been scattered preached the word wherever they went" (8:4). The disciples evangelized as a way of life. They didn't depend upon huge organizational strategies; they just walked and talked the faith. Second, the journey went to Samaria, the land of people who were hated by the Jews in Jerusalem (John 4:9). Though a quieter miracle than exorcisms, the transformation of the human heart is no less phenomenal. Third, Philip had been chosen to supervise the distribution of food in the Jerusalem congregation (6:1-6). Here was a man faithful in words and deeds -- both small and great, public and private.
Personal Application
What are the obstacles that confront you? Instead of simply praying for escape from some of these difficulties, spend time asking for the wisdom to see God's hand in the midst of the situation. Perhaps the Lord is using this obstacle to create some opportunity for service or for the development of your faith.
Psalm 26:2-3:
Test me, O LORD, and try me,
examine my heart and my mind;
for your love is ever before me,
and I walk continually in your truth.
Prayer
Almighty God, I trust in your control over the circumstances of my life, and that you protect me body and soul, according to your good design. Grant me the grace to be faithful in word and deed, even as I endure whatever trials may confront me this day.
Dr. Walter Kim is the Minister of Adult Education at Park Street Church in Boston. He received his M.Div. from Regent University's School of Divinity and his Ph.D. in Near-Eastern Languages and Cultures from Harvard University.
Dr. Kim's Bible devotionals appear at the Evangelical Portal every Friday. He previously shared the story of his faith with us.
1/21/2010 5:00:00 AM