By Jim Burklo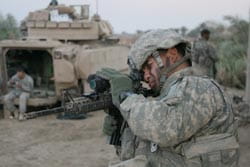 It came to light recently that the U.S. military bought rifle-sights that are engraved with references to passages in the New Testament. When a soldier trains the cross-hairs on a fellow human being whom he or she is about to kill, the soldier also will see "JN8:12" or "2COR4:6" inside the scope.
This is a blatant violation of the separation of church and state. Unconstitutional enough to have any reference to the Bible in an Army-issued rifle-sight, but worse yet that it is specifically Christian. And it's much worse yet that anyone would suggest that there is anything Christian about killing other human beings, for any reason. This incident is another example of the serious constitutional breaches that are endemic in our armed forces today. In many cases, military career advancement depends on professing evangelical Christian faith. (See more about this problem at Americans United for Separation of Church and State.)
Our country is unusually humane in comparison to the behavior of many other nations throughout history. Yet still, most of the decisions America has made to go to war have been based on greed, unfounded fear, or breathtaking hubris.
There are occasions when war is justified in order to protect human life and prevent gross oppression. I believe that it is appropriate for our country to be engaged in military action in Afghanistan. But my view is a tentative one. This war barely crosses the ethical threshold that was set forth by Saint Augustine so long ago in his doctrine of "just war." His was a Christian effort to look critically at the justifications for armed conflict, and he came up with a rubric for when it could be morally appropriate. Yet there's still nothing Christian about war, even if the war passes Augustine's test, even if Christians like myself conclude that there's no other way to protect life and basic human rights. There is not a word in the New Testament to condone or encourage warfare or any other form of violence, under any circumstances. Christianity is anti-war to the core.
It's worth a look at the scriptures that have found their way into the gun sights of our soldiers' weapons:
John 8:12 -- "Again Jesus spoke to them, saying, 'I am the light of the world; he who follows me will not walk in darkness, but will have the light of life.'"
2 Corinthians 4:6 -- "For it is the God who said, 'Let light shine out of darkness,' who has shone in our hearts to give the light of the knowledge of the glory of God in the face of Christ."
It tortures these texts beyond recognition to suggest that they should illuminate the eyes of human beings who are about to kill other human beings. On the complete contrary, the divine light helps us aim at compassion, forgiveness, and patience. The divine light illuminates the way to peace and reconciliation. The divine light shines on every possible way to avoid the use of rifle-sights. Even in a war that has moral justification, we should invoke divine light to guide us to the most peaceable and just path to the cessation of hostilities.
War is never right. At most, it is an evil that must be utilized to prevent worse evils. A morally justifiable military intervention must be conducted with the utmost care to avoid unnecessary harm to combatants and civilians alike. But even surgically precise warfare isn't good; it's just less bad than the alternatives.
The Christian faith has an overwhelming bias against violence, even in response to aggression. It errs on the side of forbearance. A Christian's conscience must grapple with Jesus' imperative toward self-sacrificial compassion and forgiveness on one hand, and the practical necessity of protecting vulnerable people from murder or terrible oppression on the other. Christians must grapple with the contradiction between what is Christian and what a Christian must sometimes do. There is no neat and tidy resolution to this dilemma. It's a cross all of us must bear, whether we are soldiers or just voters. This uncomfortable engagement with the imperatives of our faith will, hopefully, lead us to erase any hint of Christian endorsement for killing. Let us take this shameful incident as an opportunity to remember that Christianity leaves the Bible out of rifle-sights and instead puts it into visions for peace.
This article appeared on the Musings blog at The Center For Progressive Christianity and is reprinted with permission.
Jim Burklo is an ordained United Church of Christ pastor and is the Associate Dean of Religious Life at the University of Southern California. He is the author of Birdlike and Barnless: Meditations, Prayers, and Songs for Progressive Christians (2008) and Open Christianity: Home By Another Road (2000). He served as pastor of Sausalito (CA) Presbyterian Church, and of College Heights UCC Church in San Mateo, CA, served as ecumenical Protestant campus minister at Stanford University, and was the founder and executive director of the interfaith Urban Ministry of Palo Alto. His Masters of Divinity degree is from San Francisco Theological Seminary.
1/22/2010 5:00:00 AM