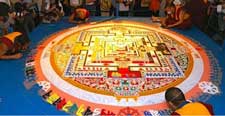 I also was impressed with a session led by four renowned rabbis addressing, "Who Do We Want to Be: Exploring the Mission of the Jewish People in the 21st Century." I was personally interested in this session as a member of the Jewish faith, but it was fascinating to observe that three fourths of the people in the audience were not Jewish (as was evident by a show of hands when the question was asked).

Contemporary Judaism, whether as expressed in Israel itself or in the Jewish Diaspora, faces many challenges as it moves further away in time from the identification with the Holocaust and the foundation of Israel. This esteemed panel of rabbis discussed these challenges and the evolving nature of Judaism today. Along with Rabbi David Rosen and Rabbi Brad Hirschfield was Rabbi David Saperstein, designated in Newsweek's 2009 list as the most influential rabbi in the United States. Rabbi Jeremy Lawrence, the chief rabbi of the Great Synagogue of Sydney, Australia, was also on the panel.

Some of the major conclusions they drew included:

Peace in the Middle East is imperative as it is the center of global conflict and the cutting edge of interactions of civilizations. We must break out of the cycle of violence.

Jewish teaching affirms that we all are made in the image of God, and we need to work toward making a better world.

We are a Noah Generation: facing a world that is cursed with a lack of resources, poverty and the potential destruction of the Earth.

We need to embrace the Jewish teaching of "Tikkun Olam," repairing the world. It is not enough to study our sacred texts. We must live out the commandments we find there.

Our central question should not be: Is the world big enough for us?
 Instead, we should be asking: Are we big enough to embrace the world?
Coming next week: Part 2 of this series on the recent Parliament of the World's Religions.
This article and photos originally appeared at ReadtheSpirit.com and are reprinted with permission.
1/11/2010 5:00:00 AM