By Bethany Furkin
Presbyterian News Service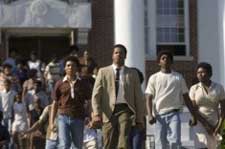 Having grown up as the son of a white Presbyterian pastor in North Carolina, Jeb Stuart has fond memories of the special community he experienced at church.
But Stuart, who came of age in the 1960s and '70s, now sees the larger significance of that time and his position in America's civil rights history.
Stuart wrote and directed the movie Blood Done Sign My Name, which recently opened in limited released. The movie, adapted from the bestselling autobiographical book of the same name by Timothy Tyson, is an epic civil rights drama. Set in 1970, it tells the story of the murder of a young black Vietnam veteran who is shot and beaten by a prominent white man and his sons. The men are acquitted in a sham trial, and many young black men riot in response.
The victim's cousin, however, decides to protest the injustice with a peaceful march to the state capital. The trek soon draws thousands. The son of the pastor of the all-white Methodist church in town, a young Tyson, watches as his father tries to get his conservative congregation to accept integration.
Stuart's involvement with the movie began more than three years ago, when a friend recommended he read the book. As a longtime Hollywood screenwriter and director -- he's written action films like The Fugitive and Die Hard -- Stuart said he is used to people suggesting books for him to adapt into screenplays.
But Blood Done Sign My Name was different.
"Something just incredibly resonated with me," Stuart said. "I was very sensitive to what the Tysons had gone through."
After talking with his father, the former pastor of First Presbyterian Church in Gastonia, N.C., Stuart saw his experiences in the church in a new light. Serving a Southern congregation during the height of the civil rights movement was the most stressful point of his career, Stuart's father told him.
One of the powerful, and painful, messages of the movie is that churches played a part in segregation, serving as barriers to integration, Stuart said. Martin Luther King, Jr., described "white moderates" as the biggest challengers to the civil rights movement, and that idea is expanded upon in the movie.
"I had to look at myself and my family as the antagonists in the story," Stuart said.
Sometimes evil hides in familiar places, he said. In one scene in the movie, Tyson's father takes him and his brother to an evening picnic. They see families eating, children playing, friends chatting. And when a cross is raised, Tyson thinks they're at a Christian revival. It's only when the cross is set on fire and people don their cloaks that he realizes they're really witnessing a Ku Klux Klan rally.
"It's tough. It's a worthy theme for a movie," Stuart said. "The hard part isn't recognizing evil -- it's confronting it."
Although the film is set in the 1970s, the themes of racial injustice and integration are still relevant today, Stuart said.
"Sunday is still the most segregated day in the South," he said.
Although blacks and whites now mingle in some places, such as restaurants, churches remain largely segregated.
The Presbyterian Church (U.S.A.) is predominantly white. The denomination has more than 10,000 congregations, of which about 460 are predominantly African-American. About 72 percent of black Presbyterians are members of black congregations.
"We haven't really reached a point in society where (integration in churches) happens," Stuart said. "There is still a lot of room to improve."
Churches can add to racial inequality in another way, Stuart said. Mission work can fall into the model of whites "taking care" of their "poor, black brothers and sisters," he said. That way of thinking perpetuates the idea that whites are superior to blacks.
"It makes white people feel very good about themselves and at the same time ... it's not helping the racial situation," he said.
That's another theme of Blood Done Sign My Name, Stuart said, adding that it's almost the antithesis of To Kill a Mockingbird, in which a white lawyer defends an innocent black man.
In Blood, whites don't rise to the aid of blacks -- blacks confront their problems on their own and succeed on their own, Stuart said.
Blood Done Sign My Name stars Nate Parker, Ricky Schroder, Nick Searcy, Lela Rochon, and Afemo Omilami.
It will be initially released in 100 theaters, then expanding. It's rated PG-13 for violence, language, and mature themes involving racism.
Watch a trailer of the movie here.
This article was originally posted at the Presbyterian News Service and is reprinted with permission.
Bethany Furkin is a staff reporter with the Presbyterian News Service.
2/25/2010 5:00:00 AM