By Fr. Mike Boutin
Then the disciples of John came to Him, saying, "Why do we and the Pharisees fast, but Your disciples do not fast?" And Jesus said to them, "The attendants of the bridegroom cannot mourn as long as the bridegroom is with them, can they? But the days will come when the bridegroom is taken away from them, and then they will fast. But no one puts a patch of unshrunk cloth on an old garment; for the patch pulls away from the garment, and a worse tear results. Nor do men put new wine into old wineskins; otherwise the wineskins burst, and the wine pours out, and the wineskins are ruined; but they put new wine into fresh wineskins, and both are preserved." (Matthew 9: 14-17)
You have to have a Venetian mask if you're planning on celebrating Mardi Gras: "Laissez les bon temps rouler!" Watch this YouTube clip to learn how to make your own mask!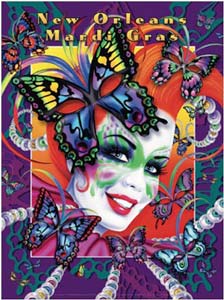 Tuesday is Mardi Gras: in French, "Fat Tuesday." Mardi Gras is the day of feasting that precedes the forty days of fasting of Lent. For forty days, we Christians fast, give alms, and pray more intensely as we learn each year what it means to be followers of Jesus Christ.
We go into the desert with Christ in Lent so that we can rise with Him in a new way at Easter. But enough of Lent, already. First, it's time to celebrate!
Mardi Gras is a time to rejoice... to imbibe... to laugh... to sing... to celebrate. Now, I'm not suggesting the drunken debauchery of Rio or New Orleans, but I am suggesting that before we get down to the serious business of Lent, that we take seriously our task as a resurrected people to give evidence to the world that we are risen, that we have new life, and that life in Christ is ours in abundance.
Christians seem good at being a people of the Cross: sad, weary, offering up our sufferings, and "putting up with life." But when does the world see that we are filled with the joy of new life in Him who is risen? When does the world see in us real joy as Christ's disciples?
When does the world see us laughing and enjoying life because of our faith in Jesus Christ? When does the world see us smile and know that it's because of our faith?
You should see what I see on a Sunday morning as I look out at some people. Sometimes I wonder if I'm at a celebration of Mass, or at a funeral.
This Tuesday, smile... have a glass of wine... tell a joke... throw a set of beads at someone! Have a Mardi Gras party with your family and friends... sing a song... dance... play a musical instrument... watch your favorite comedy movie... take the day off from work... eat a donut... eat two....
Because Wednesday, Lent begins.
Now pray...
Father Mike Boutin is the co-pastor of the Church of the Blessed Sacrament, Walpole, MA, and travels widely, leading pilgrimages throughout the world to various Catholic religious sites. He is a frequent speaker on liturgy, music, spirituality, and pastoral ministry.
2/15/2010 5:00:00 AM