An Interview with Amanda Borden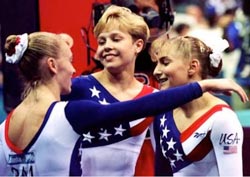 Amanda Borden was born into a Christian family and raised in the Cincinnati area. She began her gymnastics career in 1984, and spent six years on the national team. Although she won a silver medal with the United States team at the world championships in 1994, she is best known for captaining the "Magnificent Seven" that won the gold medal in Atlanta in 1996.
Borden trained with Mary Lee Tracy of the Cincinnati Gymnastics Academy, and she was open about her faith throughout her career. She is married to Brad Cochran, and gave birth to a daughter in 2007. She now trains the next generation of gymnasts at Gold Medal Gymnastics in Tempe, Arizona. Borden also gives clinics around the country and serves as a commentator for gymnastics and cheerleading events for CBS Sports, Fox Sports, Turner Broadcasting, and ESPN.
For our series on Faith, Gymnastics and Olympic Glory, she spoke with Timothy Dalrymple.
When did your faith become your own, and was gymnastics a large part of your faith life?
I was about twelve when I really started understanding my faith and making it a high priority. My coach, Mary Lee Tracy, really brought faith into the gym for us. She showed me that I could do much more with my faith than just go to church with my family; I could apply it to my life. Growing up, going to church with my parents was just what we did every Sunday. Then I started learning how to apply it on my own, on an everyday basis, and how to draw on my faith to handle tough situations.
Gymnastics had a lot to do with that growth in my faith. A lot of my tough situations revolved around my sport, because that was what challenged me. School was never a problem, friends were never a problem. My family was amazing. So, for me, my struggles were in gymnastics, and my coach was a great mentor in being a strong Christian and having faith in God, and believing that God has a plan for my life.
How, in the gym, did you integrate your faith life with your gymnastics experience?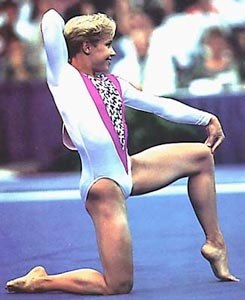 Gymnastics demands so much of our time. We train all week and travel and compete on weekends. The people you're surrounded by really become your second family, your best friends, your sisters. My coach was like a second mother for me. So, being surrounded by people who felt the same way was a huge part of my faith life.
We had Bible studies at the gym before practice on Mondays. They weren't required, but they were so refreshing for me. As I climbed the levels of gymnastics, it became really difficult and overwhelming. But incorporating my faith into my training really helped me deal with that.
Few people realize the amount of pressure and stress that is placed on a fifteen-year-old in our sport. I was a perfectionist, and wanted to do very well. You can't really take all of that pressure on yourself. I had to learn to focus on the things I have control over, and then trust God that everything else would work out the way that He planned, whether or not it was what I wanted.
I was fortunate enough that my career did work out exactly how I wanted. But there were many times I prayed at night, "God, what is the answer? What am I supposed to do? Am I meant to go to the Olympics? Should I keep training, or go to college instead?" I was constantly torn in so many directions. There is no doubt in my mind that I would never have been able to handle it all if I had not had faith in God.
A lot of people look at Mary Lee, and Jaycie [Phelps] and me. We were unique in that generation of gymnasts, in the way we would pray before competitions. We would ask each other, "What are you praying for? Do you want to win?" All this drama! But we mostly prayed to be safe, and to let people see our joy. We prayed that we could trust God and accept the outcome no matter what happened.
Accepting the outcome in advance is a tough thing to do when you're putting everything on the line, and you've worked 15-plus years, forty hours a week, and given up a lot, to almost let go of it, to say: "I trust in you, God, and I hope that our goals align here, but if not, it's going to be okay."
You mention letting people see your joy. Were there other ways in which you sought to express your faith on the competition floor?
2/25/2010 5:00:00 AM