An Interview with Kim Hamilton Anthony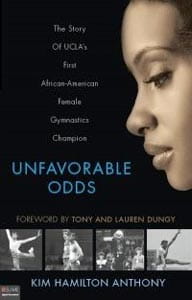 Kim Hamilton Anthony's compelling new book, Unfavorable Odds, recounts the improbable story of a 5'7" African-American girl from a drug-ravaged neighborhood who rose to success in the well-heeled and overwhelmingly white sport of gymnastics. When other gymnasts were sound asleep, Kim was cleaning the gym or running a coat-check stand at a nightclub in order to earn money to pay for her training. Ultimately the sport delivered her from the dangerous neighborhood of her youth to the sun-drenched hills of UCLA, where she won four NCAA titles, met her eventual husband -- and became a devout Christian.
Anthony was also a member of the national team from 1984-86, and represented the United States internationally, winning the South African Cup. She was a six-time All American, and in 2000 was only the second female gymnast inducted into the UCLA Athletics Hall of Fame. She has gone on to a successful career in sports broadcasting, motivational speaking, and Christian ministry. She and her husband live in South Florida and serve as the chaplains for the Miami Dolphins and the Miami Dolphins Wives.
Hers is an extraordinary story of courage and faith, and a testament to the power of sports to elevate individuals out of their immediate circumstances. The book can be purchased at her website as well as Amazon.
Kim spoke to Timothy Dalrymple for the series on Faith, Gymnastics and Olympic Glory:

You faced profound challenges few gymnasts face. How did race and class play into your experience as a gymnast?
I was living in two different worlds, and it wreaked havoc on my identity. At home I lived in a predominantly African-American environment. I went to a public school that was predominantly African-American, and the people I hung around were in the same socioeconomic status I was.
In the gym, it was the opposite. I had a hard time figuring out where I fit in. In practice, I spoke English correctly. To this day, I remember how embarrassed I was when a boy on the gymnastics team corrected my English, because I did everything I could to fit in and be exactly like everyone else.
And since we could not afford my training, we raised money in unconventional ways. My parents and I cleaned the gym after practice at night, or very early in the morning, before we left for work and school. I performed gymnastics at a nightclub. We would set up a coat check stand and people paid a dollar or two to check their coats and hats, and I performed under the disco ball after midnight, to show them where their money was going. I entered talent contests and did gymnastics routines to win money to pay for my leotards or travel expenses or training.
While my teammates were in their beds all warm and cozy, I was walking the street at four o'clock in the morning, returning from the nightclub where I had been raising money for my training. On other nights, I would work out until ten o'clock, and then sometimes we would clean the gym right after practice. But if we were too tired, then we would wake up to clean it at five in the morning on the next day.
So my experience as a gymnast was quite different, but I never shared those things with my teammates. I didn't want there to be just another thing that separated us.
I was also in an environment surrounded by drugs. There was a lot going on.
Did gymnastics help to keep you away from the drugs?
No, it didn't. Drugs were in my home. It was so common that I didn't even realize the legal issues surrounding it until I was in college. That's how common it was, not only for my household but my surroundings.
I imagine that the drugs created even more of a tension between your setting in the gym and your setting at home.
Here's a story I didn't share in the book. I remember one of my teammates coming over to play on a Saturday after practice. We just did what girls do. We played around and had fun for a couple hours. Then my father came home with his friends, and they were about to do what they usually did. I remember being so embarrassed because I thought that they would do their drugs while she was in the house. I didn't want that to happen, so I begged my mother to ask daddy to wait until after this girl leaves before they start doing that, because I would be so embarrassed. That was one of the struggles that I had.
2/9/2010 5:00:00 AM