By Rev. Nadia Bolz-Weber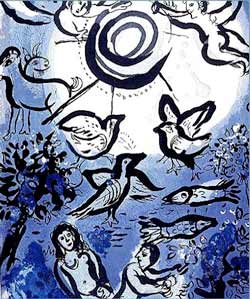 If I speak in the tongues of mortals and of angels, but do not have love, I am a noisy gong or a clanging cymbal. And if I have prophetic powers, and understand all mysteries and all knowledge, and if I have all faith, so as to remove mountains, but do not have love, I am nothing. If I give away all my possessions, and if I hand over my body so that I may boast, but do not have love, I gain nothing.
Love is patient; love is kind; love is not envious or boastful or arrogant or rude. It does not insist on its own way; it is not irritable or resentful; it does not rejoice in wrongdoing, but rejoices in the truth. It bears all things, believes all things, hopes all things, endures all things.
Love never ends. But as for prophecies, they will come to an end; as for tongues, they will cease; as for knowledge, it will come to an end. For we know only in part, and we prophesy only in part; but when the complete comes, the partial will come to an end. When I was a child, I spoke like a child, I thought like a child, I reasoned like a child; when I became an adult, I put an end to childish ways. For now we see in a mirror, dimly, but then we will see face to face. Now I know only in part; then I will know fully, even as I have been fully known. And now faith, hope, and love abide, these three; and the greatest of these is love. (1 Corinthians 13)
This week my friend Sara reminded me that the really amazing thing about 1 Corinthians 13 is that even hundreds of thousands of schlocky wedding and inspirational posters and bad Christian coffee mugs can't kill it. Paul's hymn to Love is perhaps one of the most recognizable texts in the New Testament. And it is really beautiful... but it has just about nothing to do with romance.
To be sure, the subject of love is a tricky one. I think because we so often are loved poorly, loved incompletely, loved conditionally. The subject of love is a tricky one because we so often love poorly, incompletely, and conditionally. And, forgive the pop psychology, but my theory is that when we are loved so poorly we begin, on some level, to assume that we are maybe undeserving of being loved well. And from this state of being loved poorly, feeling undeserving, and then loving poorly in return -- which, let's face it, is the foundation of Oprah's and Dr. Phil's entire empires -- we do some stuff that's... unhelpful.
I've been thinking about the things I've done in my life to try and make myself more lovable. I lost weight, I tried to not use big words, I tried laughing even when a joke wasn't funny. And when I was dating Matthew (and those of you who know me will get this) I went camping. I tried showing the other person only the parts of myself that I thought were lovable, and if there weren't enough of those parts then I just manufactured some. Because I was sure that to know me is actually not to Love me.
We come by this naturally, given messages as we are about what is okay and what is not. Strong smart girls learn to act ditzy and helpless; tender-hearted boys learn to toughen up. And it's no secret that some of these messages insisting on our fragmentation came from the church. I remember a male Sunday School teacher in 5th grade taking my parents aside and suggesting that they insist I stop answering all the questions in Sunday School so quickly because then the little boys, who really should be answering the questions, don't really get a chance.
Richard Rohr has a way of assessing our spiritual health... namely what do we do with pain? Do we transmit it or do we transform it? Because the mirror in which we might see ourselves as God sees us gets dimmer and dimmer when the pain of being human is transmitted to us and not transformed. As our own sin and brokenness begins to be a lens through which we view ourselves and others, the mirror grows dimmer. And then the pain of not knowing who we really are becomes transmitted through all the things Paul describes: arrogance, impatience, unkindness, envy, selfishness.
It can be a desperate cycle based on something as simple as the truth my mother once spoke: "Honey, bullies just bully out of their own hurt inside as though they have to spread it." But this is true of so many things when we think about it. And I think what Paul was saying to his little church plant gone bad was: stop hurting each other. Stop transmitting your hurt and sin. Because from that state of being loved poorly, feeling undeserving, and then loving poorly in return, we do some stuff that's... unhelpful.
2/5/2010 5:00:00 AM